Pumpkin and JavaMan are still away. I've made a couple of discoveries in their absence:
I now know the source of all my laundry woes: Pumpkin. At least that's gotta be it, because since he left, I've been totally on top of the whole laundry situation. No more overflowing pile, it's all done, folded, neatly put away. Ask me the last time that happened. Actually, don't.

I'm exhausted at the end of the day. Remember the slumber party? Well, most nights I've packed it in along with the girls. How can two children be more exhausting than three? Not sure about that, but it seems to be the case. Of course, it doesn't help that it's been freezing here and a lot of my energy has been going into staying warm. More on that in next week's Taste of China post–which I was too exhausted to write this week!
And then there's food. I have been battling what I believe to be is a battle with candida for some time now. I put myself on a very restrictive diet back in September, and was very good until about Christmas, when I was not so very good.
Now, I'm looking in radical directions. Like going raw. In the meantime, however, since there are a lot of logistics to overcome trying to do that 1) here in China and 2) while battling candida, I am cooking as normal and adding a lot more raw veggies to my diet, making sure to start with raw and fill up with that as much as possible before eating anything else. Lunch was totally raw for me today. Yay!
But like I said, in the meantime, life is moving on. I'm always looking for something quick to get us off to a good start before homeschool, and when I saw these two-ingredient pancakes, I knew this was a winner! Are you ready? Here's the ingredient list: bananas and eggs.
These pancakes can be made with just those two ingredients and turn out just fine, but they are a little fussy, as you'll see in the picture (flipping is a challenge). So here's how I tweaked to make them hold together a little better and to add some fiber. The formula below does NOT make enough for our family. I doubled it when it was just me and the girls, tripled it when Pumpkin was here. JavaMan usually fixes his own breakfast, since his schedule's a little different from ours. I only added the cinnamon once. I think the banana flavor comes out more when it's not added: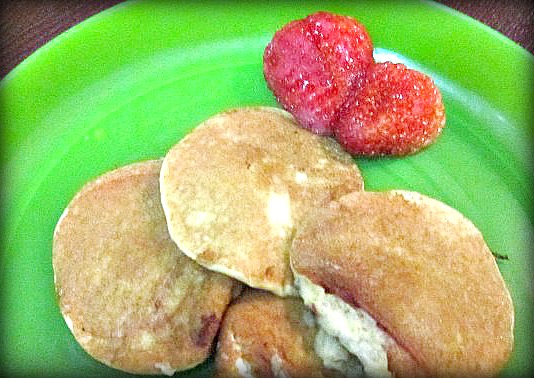 Ingredients
1 banana
two eggs
1/2 tsp. ground flax seeds
dash cinnamon (optional)
Preparation
I use my Magic Bullet to grind the flax seeds, then dump those in with the eggs and bananas, give the whole thing a good puree and then just pour into the pan. (Make sure you rinse out the container afterwards because wet, ground flax seeds will make a sticky mess, once they dry.)
Tada! Breakfast. Just like that. Gotta love it.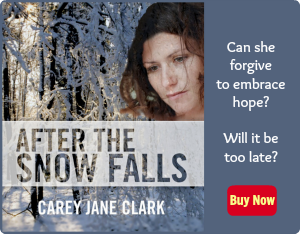 Use Facebook to Comment on this Post