Today is the day! There is no more countdown. Tonight at 9:00 or so, we'll be getting into a van (our stuff will be in another) and heading to the airport. What a way to begin a day, with so much expectancy. But any day can begin that way. Wouldn't it be wonderful to wake up every morning and think "something good is going to happen to me today?"
In a way, that's what recognizing one's blessings does. You start to see that every day holds hidden surprises. God's smiles wait around every corner. Every day holds something we can receive with joy and know that we are blessed.
This week, along with many others who count their gifts to 1000 at Ann Voskamp's beautiful blog, I am particularly thankful for these gifts:
160.  Today is the day!
161.  On Wednesday, I will see JavaMan again!
162.  Our kitchen items and bedding arrived at safely at our new apartment today/last night from the south of the country.
163.  A friend helped my husband get good deals on all the moving, and we are under budget for all our moving expenses, even with one or two extra bins arriving from Canada.
164.  Our children as excited about today as I am.
165.  I finally fit everything in the bins!
166.  I did not have to stay up all night on our final sleep in Canada. I had a good rest going into this trip
167.  It seems like every trip I have a last-minute project or two to finish up. They're almost all done. The binding on Sprout's quilt is finished, shrink-wrapped in a Space Bag and crammed into our luggage. (It distressed her a little to see it squished like that, so we had to demonstrate the re-inflation process. It's always fun to watch that anyway.)
168.  Another last-minute project is complete: I had been knitting a purse for Sprout (she didn't want a scarf and hat like the other two). It's ready for the trip, and I have something new on my knitting needles to keep me busy on the plane.
169.  I am holding on to my optimism. I still think there's actually a chance I'll have time to do knitting on the plane.
170.  Sweetpea spotted the first of the robins here the other day. I love spring in Canada, but I am just as excited to be spending it in China.
171.  I am continually thankful for my parents, who helped me solve the bin puzzle over the weekend. I was starting to kind of lose it with the pressure, but they stood by to help me. If nothing else, it was good to have the company.
172.  I am also thankful that my parents are on hand to take us to the airport. They will be departing shortly thereafter for the sunny south, and they will be taking a rest that's probably much-needed after the longer-than-anticipated invasion and occupation of the Clark family.
173.   It feels so good to be at the beginning of something. I have high hopes for my husband's business efforts in China, and for our language learning as a family. We are truly on an adventure.
174.   I am and thrilled for my husband that he has been so successful already. I'm especially thankful that he feels that his language-learning efforts are paying off, and he is understanding far more of what's going on around him.
175.   I am starting to see results for my efforts at getting back to exercise.
176.   JavaMan tells me the new apartment is at the top of a hill, and of course, it is on the fourth floor and there are no elevators. We also have no car while there. So my efforts at keeping fit are about to have help!
177.   Had a chance to connect with friends this week and follow up with other people's blessings.
178.  My wonderful mother made up two batches of homemade gluten-free bread mix for me to get started on when we arrive in China, saving me a lot of work, once I locate my bread pans!
179.  I think I remembered just about everything. Almost all of my to-do list has little checkmarks.
What are you expecting today?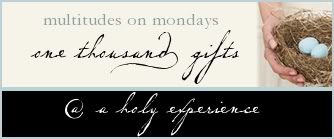 Use Facebook to Comment on this Post