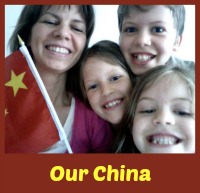 People ask us all the time what it is like to live in China. I often respond that it's hard to describe, but I'm going to give it a try.
A couple of weeks ago, I was asked to guest post about what homeschooling in China is like. You can read that post at the Schoolhouse Review Crew site.
Come along with me in this series of posts to sample a little taste of what our everyday lives are like. For the first post, I'm going to take you with me to the market. The word for "market" in Chinese is 市场 (shì chǎng). You buy everything here in a shì chǎng. If you want to buy flowers, you go to the flower shì chǎng. Need a new cell phone, laptop or iPad? Go to the electronics shì chǎng. Clothing, of course, is purchased at the clothing shì chǎng. Want to buy a dog? Man's best friend is–you guessed it–found at the animal shì chǎng.
To buy fruits and vegetables, some wealthy Chinese now believe the supermarket to be the best place to buy quality goods, but it seems to us outsiders like going to the good old-fashioned shì chǎng is the best place to buy fresher produce more directly from the farmer–like going to the farmer's market back home in Canada. And like many of our neighbors, we shop at the shì chǎng almost every day.
Some markets are just for meat, fruit and vegetables. At our local market, the main offerings are foods, but you can also buy hardware, fabric, get your cell phone charged with money or buy a lightbulb.
Goods are divided into departments of sorts. One family sells just condiments: vinegars, oils, sauces, canned goods and spices. Another sells sesame seeds, sesame oils and sauces. Another sells nuts and dried fruits. Several vendors sell fruits and vegetables (although not together). Since fruit is the customary hostess gift when one visits another's home, fruit markets are often open late into the night, but don't try buying vegetables anywhere but the supermarkets after about 6:00 or 7:00 p.m., depending on when the local market closes.
We tend to pick a vendor and return to the same stall over and over again. Once we've built a relationship, people tend to give us better prices or throw in a freebie or two from time to time. When we lived in the south, we were surprised to discover that you could bargain for anything–even fruits and vegetables, but while it's okay to ask for a discount if you're buying in quantity, generally speaking here in the north, prices in the food markets are marked, and you pay the standard price without bargaining. In other markets (the electronics market, the fabric market, the clothing market…prices can be bargained).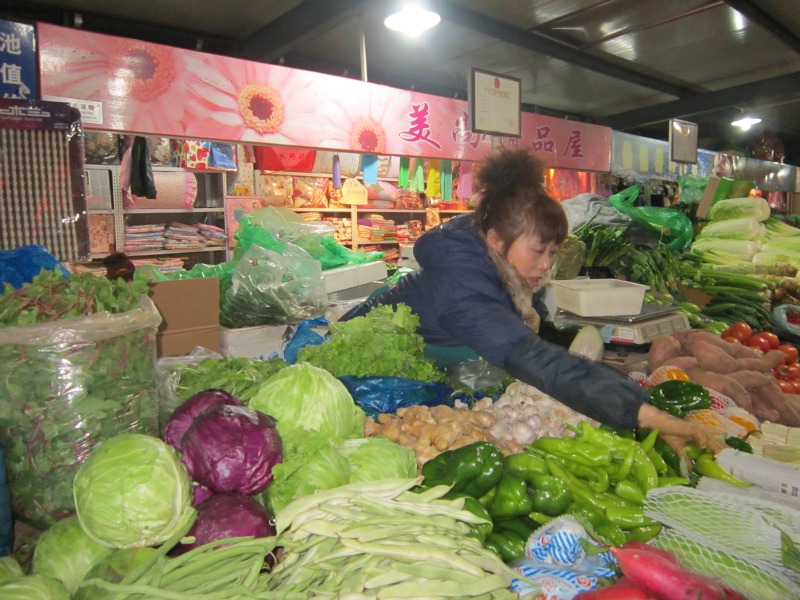 This is our favorite vegetable stand–the one I typically go to unless they're sold out of something. They sell the best lettuce in the city–a variety hard to find elsewhere. When I asked once about why I couldn't find this kind of lettuce at other markets, I was told this lady's brother grows it himself.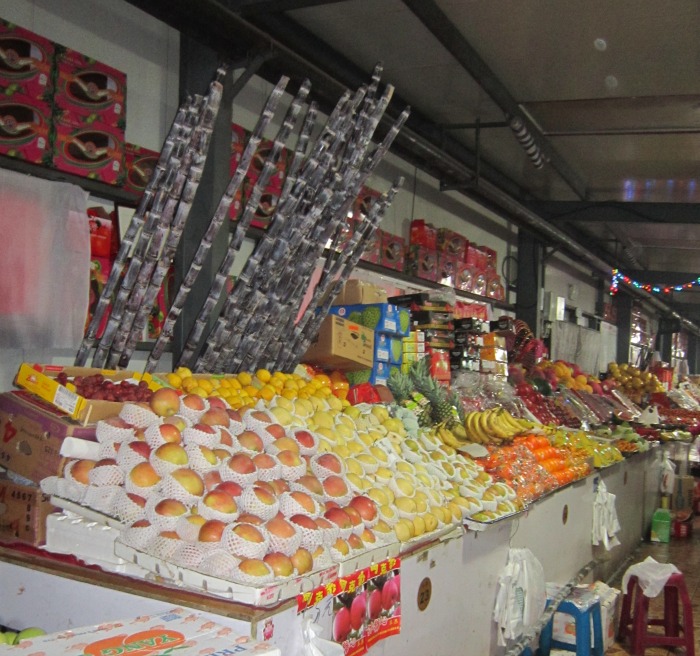 Business was humming at "my" fruit stand, and things were a bit congested, so I took a picture here instead. Sugar cane, anyone? Strawberries are in season at the market right now ($1.60 for half a kilogram for the smaller ones, about twice as much for the big ones). I can buy blueberries, but they're not in season and quite pricey. Sadly, I've never seen raspberries anywhere here, but I can buy mangosteen, pineapple, mango, pomello, starfruit, dragonfruit or kumquats. There's a lot more variety and availability now than there was even when we first came to China almost five years ago.
There's much more to tell about market-shopping, so I'll reserve some of it for next week's post. Until then,  chūn jié kuai le! Happy Chinese New Year!
{For more Chinese New Year fun, visit my Mandarin 4 Kids video blog at Hold the MSG.com.}


Use Facebook to Comment on this Post