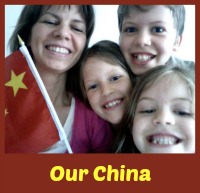 This week, I'm continuing to give you a taste of the China we know by taking a last look at the Chinese market. And I have a treat for you–a special recipe our family loves made from ingredients we buy at our local Chinese market.
While pork is much more commonly eaten here than beef, (beef is considered expensive), we don't eat pork, so we frequent the lamb and beef lady. There is only one stall selling beef at our market to the three or four that offer pork, and during Chinese New Year, that stall was closed for eight full days (so was the chicken stall–fortunately the supermarket was open).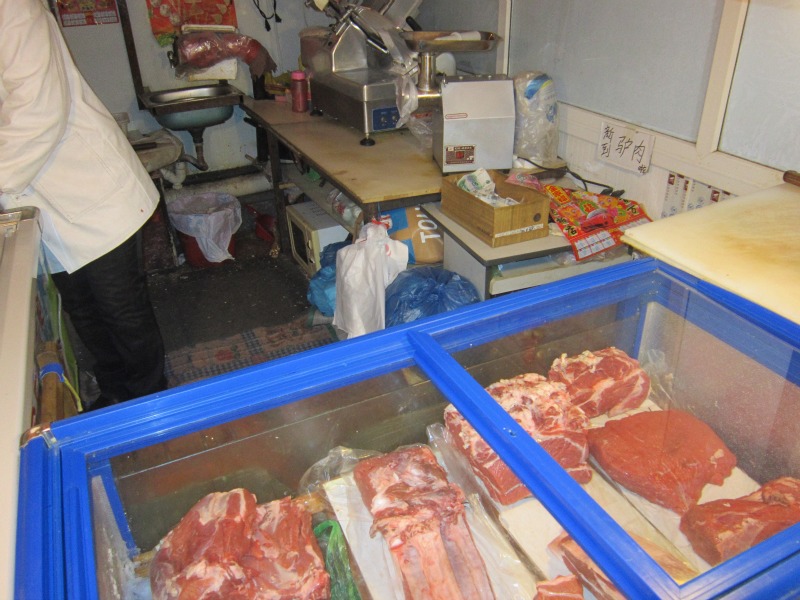 Here I can order my meat chopped, ground, or in 片儿 piǎn er (thin strips that resemble bacon). These thin strips of beef or lamb are used for special recipes. I can have it ground or chopped, at my request. price of beef has gone up recently, and now both lamb and beef cost almost $6.00 per jin.
As promised, here's a special recipe that uses lamb 片儿 (lamb in thin strips). But if you don't happen to have a Chinese grocery handy that sells the 片儿, then thin stir-fry-type slices will do. This is a very northern dish. We never ate it in the south–in fact the 片儿 were hard to come by there, and much more expensive. This is the recipe, as it comes from my bilingual cookbook, Chinese Cuisine Beijing Style
(out of print but worth getting your hands on if you're serious about Chinese cuisine), but I always double it. The method of cooking, with separately mixed sauces, is very typical of Chinese cuisine.
This recipe disappears pretty quickly at our house. Serve over rice, of course, with a side of bok choy, cooked this way (you'll thank me).
And here is the photo of this recipe, straight from my cookbook, and complete with authentic food stains created while cooking this fabulous recipe :)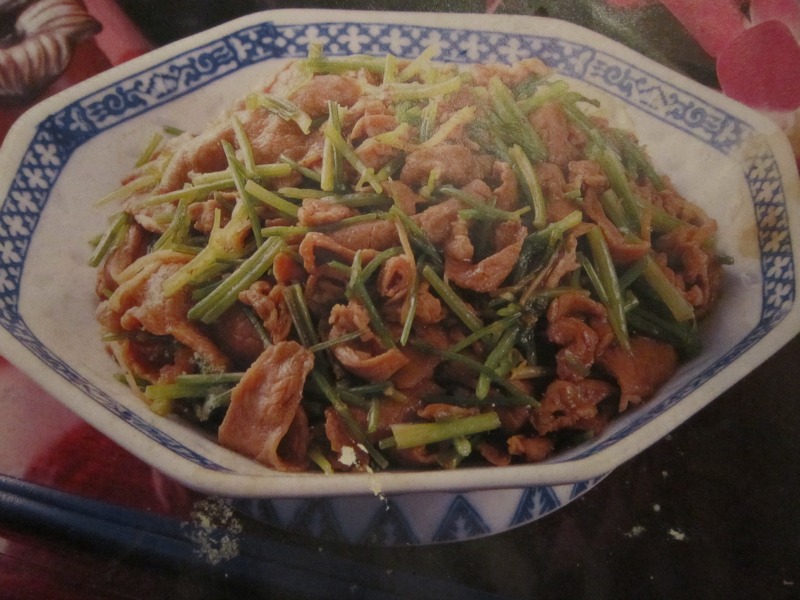 Coriander Lamb
1/2 lb. thinly sliced lamb
1/2 lb fresh cilantro
1/4 cup shredded ginger
2 teaspoons garlic cloves
Sauce 1
1 Tablespoon cooking wine

1 Tablespoon salad oil
1/2 Tablespoon cornstarch (I use arrowroot flour instead)
1/4 teaspoon salt
Sauce 2
1 1/2 Tablespoons soy sauce

1 Tablespoon cooking wine (try to get the kind sold at Asian groceries)
1 teaspoon sesame oil
Directions
Marinate lamb in Sauce 1 for 20 minutes. Wash coriander and cut into 1″ sections

Heat a wok, add 4 T oil. Stir-fry minced garlic and ginger root until fragrant. Add lamb and stir-fry over high heat ntil lamb color changes slightly (I fry it a little longer).
Stir in coriander and Sauce 2, stir-fry quickly and serve.
Enjoy!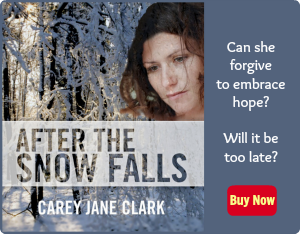 Use Facebook to Comment on this Post