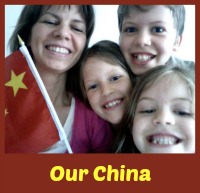 I already have a page dedicated to the subject of learning Chinese, and a whole website where my kids and I post language lessons, but continuing to learn a language means occasionally changing things up with the resources we use, so I thought it worthwhile to explain a little of what I'm using to learn Chinese these days. I learn along with our kids, of course, since I took over responsibility for their Chinese instruction at the beginning of the year when their tutor moved on to bigger and better things. That will be the subject of a future post.
In the meantime, there are a number of resources I've personally been using to boost my Chinese level.
At my current level of comprehension in Mandarin, I could stop right where I am and get along just fine. I'm capable of:
buying the groceries (or just about anything else, for that matter)

negotiating price
asking for directions
getting where I want to go on foot, by taxi or by bus
getting un-lost when misdirected
ordering the foods I like at restaurants
And I can understand more than I can speak, so my comprehension stretches much further than my production.
But I'm still stymied when I want to express something from my heart. Or even just common courtesies. A while back, a friend's father died. I didn't know what to say that was socially appropriate. "I'm sorry" doesn't translate for that kind of event. And many times, I take the long way around to explain what I want to say. While my meaning gets across, it does so anything but gracefully. The same applies for my use of anything but the present tense. I'm inconsistent and lacking finesse there too.
Don't get me wrong. For someone with no formal instruction in the language, I'm doing really well, and I rejoice at my successes. But I also know I've got a long way to go before I speak anything like a native speaker, and that is my goal. I long for the day I'll be able to understand most or all of what I hear on the radio or in conversation I hear on the street.
While I know I need to work on my oral/aural Mandarin, these days, I've been focusing on character recognition. It's truly weird being illiterate. Up until just a few months ago, I could still only recognize characters at a survival level:
the characters for "man" and "woman" that you might see on a bathroom door

some characters for food items, mainly meat, since I avoid pork
numbers
some very basic vocabulary: the verb "to be," "very," the basic pronouns (he, she, it, me, you), big, small, person, eye, ear…
a few random characters like "king" or "Lord" that we frequently encountered when we attended Mandarin church services while back in Canada in an effort to keep up our Chinese
I was initially really daunted by the idea of learning characters, but was challenged by my Chinese tutor to begin trying. It wasn't until recently, however, when I stumbled on an amazing flashcard program called Memrise, that my learning in this area really began to take off. The program does incredible things for language learning, but there are other applications as well. Just take a look at course options (in the menu on the left).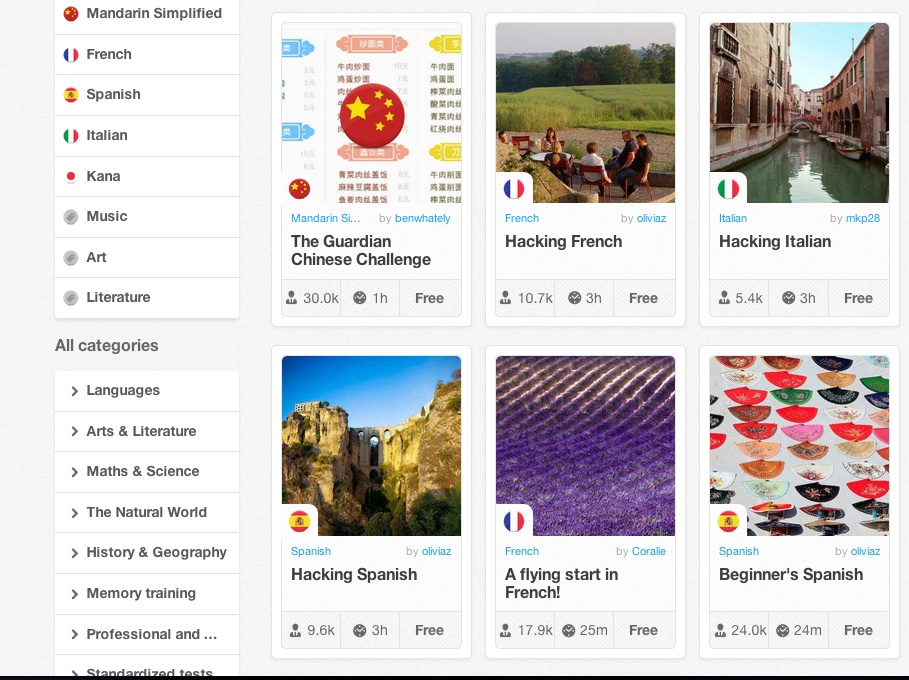 If I ever finish the study of Mandarin language, there are sets of flashcards on Chinese history or the periodic table (not that I'm interested personally, but I may file that away when it becomes important for my kids in high school).
The Program Feeds the Learner Mnemonic Devices
What makes this program particularly brilliant for the study of Mandarin [simplified] characters is a wonderful little feature the program calls mems. First, let me explain the dilemma, so you'll have a deeper appreciation.
I've used flashcard programs before. The trouble is, often you have to take the time to enter in all the flashcard information first. This is time-consuming, especially when you're working with English for definitions, pinyin with marked tones for the pronunciation as well as the simplified characters for the content being learned.
I finally found a flashcard program that simply fed me the information, but then when I encountered a new character I didn't recognize, I had to stop and try to figure out some sort of mnemonic device that would help me to remember it. Some characters are "pictographs"–that is, they resemble what they represent, like 人 for person, 大 for big, 女 for woman and 日 for sun. But others, like 教 for teach are much less obvious. And what do you do when you encounter 便 for convenient and 使 for to cause. How will you tell them apart?
Instead of requiring the learner to think up his or her own device for learning each and every character, the program calls up "mems" other learners have created that do that work for you. There are usually a number of choices of mems, but if you don't like a particular mem or can't find one for that character, you have the option of making up your own.
Here's my choice for a character that means, "to change into."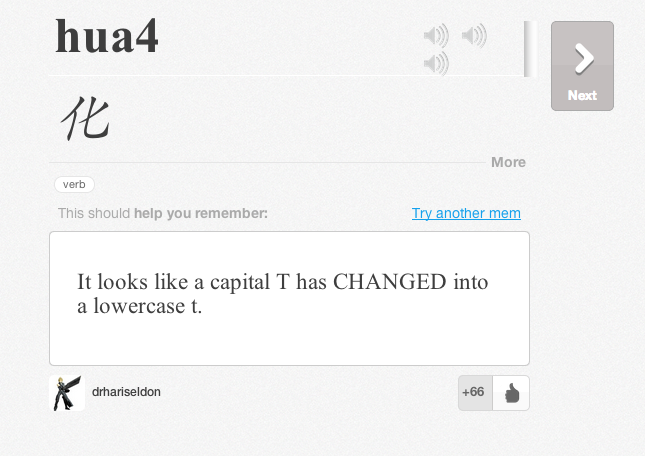 The program uses a growth metaphor for practising the new material: planting (learning new material), watering (review) and harvesting (the final "test"), and keeps track of when you should review or be tested. At the same time, however, the program allows "overwatering" or extra practice for a particular set of vocabulary that was difficult the first time around or for the entire list, if you so desire.
It's also always possible to get a quick snapshot of how you're doing in the overall course: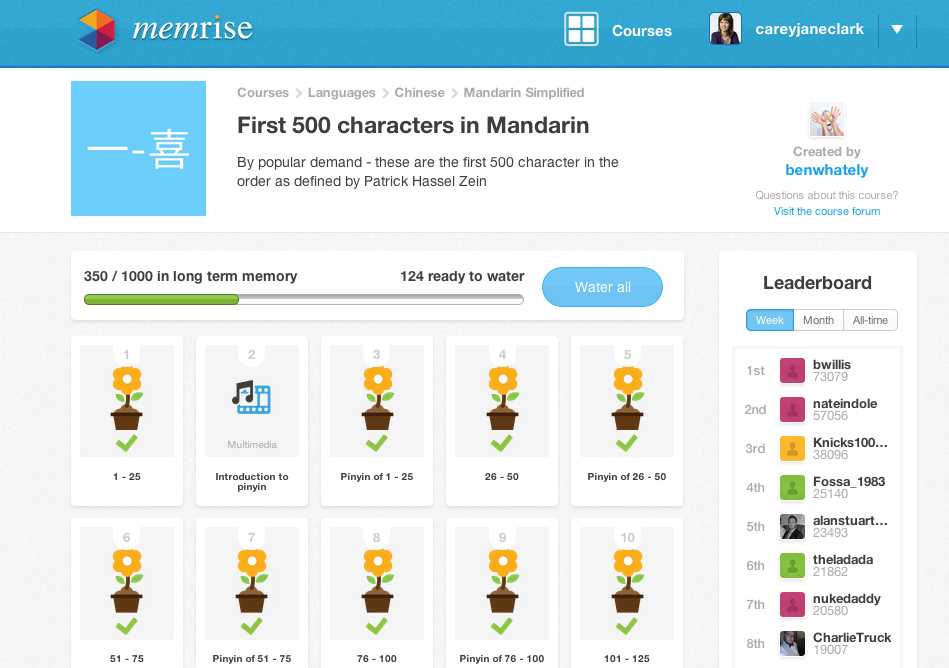 Because I'm focusing on characters right now, I've put my learning with Rosetta Stone (levels 4 and 5) on hold, but I do plan to get back to it. In the meantime, I'm enjoying ChinesePod in my iPod while I do dishes or cook meals. So far, I've managed to squeeze in the few minutes each day it takes to learn or review about 25 characters per day. Literacy, here I come!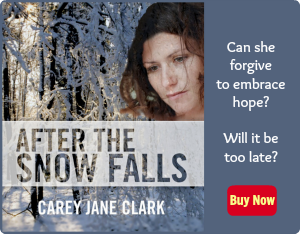 Use Facebook to Comment on this Post