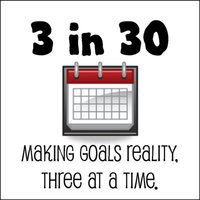 It has been a busy week. I'm not sure there were actually 24 hours in each of those days. Here's how I'm doing on this month's goals:
Manuscript revision – A little bit behind on where I'd hoped to be with revision, but sticking at it, and should still finish by July 31. This is a good thing, because I've just learned I've been given a scholarship to a writer's conference next month. I have several goals for the conference, and getting this manuscript completed by then gives me a chance at reaching them.
Bible in 90 Days – I have had to fight a bit to do it, but I'm on track.
Exercise 4 times a week – This is not where I expected to have difficulty, but it was the first thing to fly out the window when the late nights began. I simply woke up too late to squeeze everything into my morning, and didn't want to skip the Bible reading. I also counted on exercising using videos again when I was at my inlaws' and at my parents' and didn't count on the challenges of other people's schedules and the space limitations of so many people in the same space (there were 11 of us at my parents'). The rest of the month should be easier, as the during-the-week schedule is easing off, and just the weekends will be busy.
It's been more challenging than I thought to reach my goals, partly because I was somehow thinking that most of the busyness would be over by the time the Bible in 90 Days started. Bit of a miscalculation on my part there.
But I'm not going to let myself get completely derailed. I intend to push through and do my best.
How about you? How are you doing?
Visit the 3 in 30 Linkup to check on the progress of others.

Use Facebook to Comment on this Post