School's out. Originally, we weren't planning on taking a summer holiday. We were going to make up for lost time from our fractured school year.
Turns out there were several problems with that. First, we all really needed a break. All the change and culture shock adds up to a lot of stress–stress we were all doing pretty well dealing with–but ultimately, a rest was in order. We pushed fairly hard for the last two weeks to finish up our history curriculum, finishing up with the biography of William Carey, which was a great way to end up, as the book summarized a lot of the historical period we covered this year as background to the story.
The other problem with pushing straight through the summer was that since the Chinese school system is fairly rigorous throughout the school year, our children haven't had much opportunity to play with their friends. Summer's the best chance they have to do so.
So we've taken a break. And this weekend we just R-E-L-A-X-E-D. As part of that relaxation, we dug out The Settlers of Catan game JavaMan was been given just prior to our return to Canada. We'd never had a chance to play it yet. Friends of ours gave it to JavaMan as a birthday present. They bought it here in China.
Here's a picture of the lid. Note the predominance of English on the outside. (You see where this is going, right?)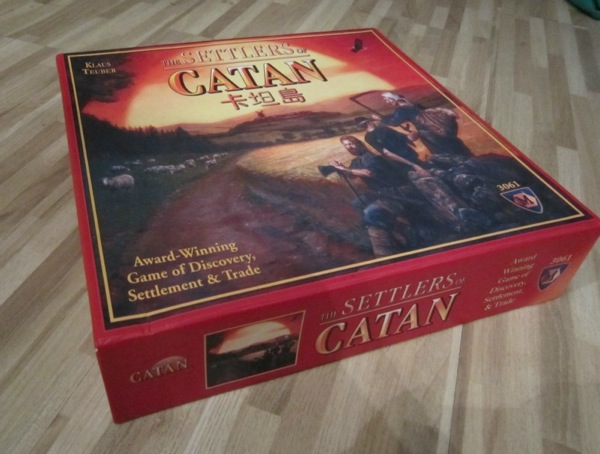 However, when we opened it, we found a set of Chinese instructions. Only Chinese.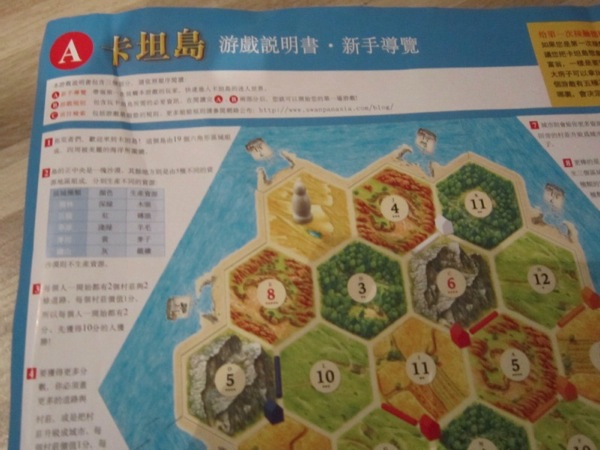 No problem. We looked up a full-color PDF of the instructions in English here.
We were in business–we thought.
When we got to the part about the Development Cards, specifically the Progress Cards, these were the instructions: If you play a Progress Card, follow its instructions. Then the card is removed from the game.
Great. Except the progress cards look like this: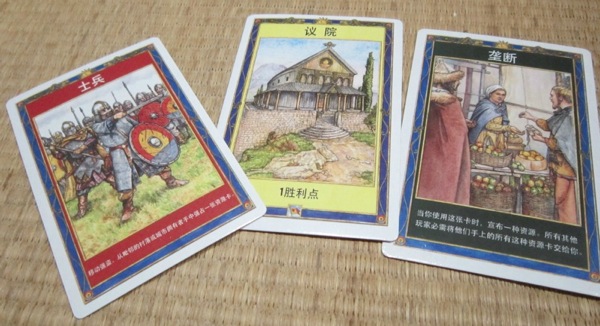 Our Chinese is mostly oral. I've been putting a big push on to learning characters, but I've mastered roughly a hundred, and it takes 2000-3000 to be truly fluent in reading.
Plan C: YouTube videos. Sure enough, we found several to explain the game–some as a brief overview (with no mention of the specific Development Cards) and some with a really detailed explanation.
But the best find was this site that allowed you to play a practice game while "Prof. Easy" teaches the main points of the game.
Finally, we were in business. Only by then, it was time to eat dinner! Maybe next weekend.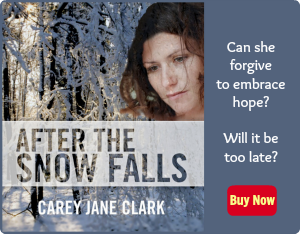 Use Facebook to Comment on this Post