This week, I almost let my son miss out. Almost.
It all started when JavaMan began planning a business trip to Shanghai for Expo FineFood Shanghai. He asked his Chinese friend who owns a tea shop to go along, and as things have a way of doing here, the trip grew and changed and became a two-province, two-week, plane, train and automobile affair.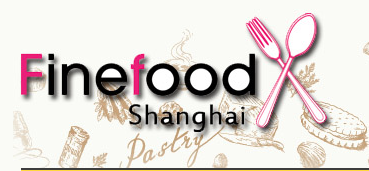 Fine. JavaMan does this. He goes on trips.
Then came the thing that really changed this trip. JavaMan's friend is taking care of his nephew. He plans to bring him on the trip. Could Pumpkin go along too?
And this is where I almost let him miss out.
When this homeschool year began, I was so excited that for once in about four years, we'd be in one place for an entire school year. We wouldn't be moving houses–or countries–and our year would be smooth and uneventful.
Who was I kidding?
It seems, even without moves and radical life changes, somehow this year has still had its share of disruptions. I just sat down a few weeks ago and planned out our school until the end of the school year. It wasn't going to end in May or June. We would still be covering our history curriculum right into the summer! Not unlike last year, when we were interrupted by moving back to China in the middle of the school year.
In fact, looking back on last year, it feels like we were much more consistent with school, despite the fact that we moved from the house we'd been staying at, schooled at my mother's house for five weeks, then moved here and resumed schooling again!
So when JavaMan asked if Pumpkin could go to Shanghai, all I could see was my plans for the school year going up in smoke. Since a number of friends have asked if our kids could join them on last-minute outings, I began to get a little annoyed, even. Does no one take our home education seriously?
And then I saw what I was missing. Isn't this kind of flexibility the reason we love homeschool? Doesn't life experience take precedence over my perfect plan? And what about time spent with his dad?
In the meantime, Pumpkin was wavering about the trip, and hadn't given his dad a firm answer about whether or not he'd like to go. When I sat him down and told him I'd figure out some way he could take some homework along with him and that we'd get along without him, he began to warm up to the idea.
There was a little last-minute scrambling, getting the right clothes laundered, cutting his hair, pulling together assignments he could do while he rides on the train for a day and half between Shanghai and their other destination. But he's gone.
And we womenfolk are holding down the fort without him. We're having a perpetual slumber party in my bedroom. (We had to move a bed in from another room to do it.)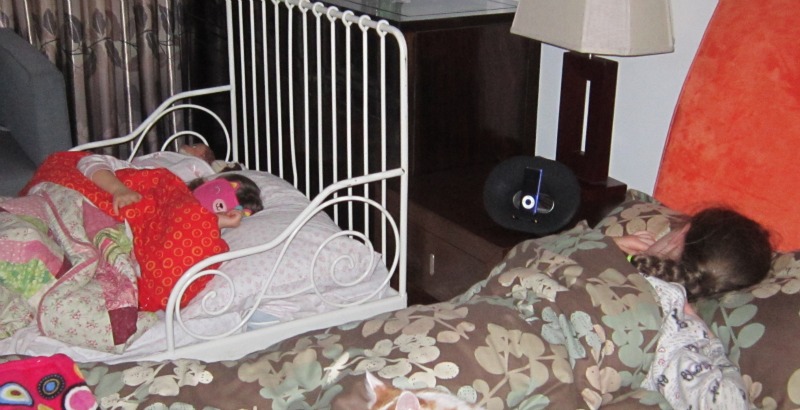 Sweetpea reenacted the scene in her dollhouse: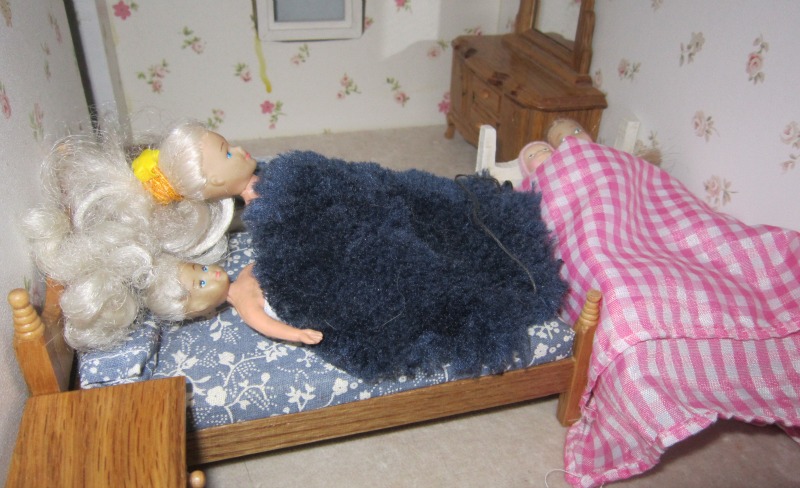 (Hmmm…Looks more orderly in the dollhouse than in my bedroom.)
And I've had to make some adjustments to schooling with just my two girls–my two girls who would rather play all day than do any kind of homeschool. Pumpkin is my most devoted student. Without him, the dynamic changes. And there are a number of subjects we study together. There are things we don't want to do without him.
We made some changes, though, and the girls told me school's been even more fun than when their brother is here. (It helps when you do school at one of their favorite restaurants for breakfast as a special girls-only treat.)
Pumpkin has plenty to keep him busy. His assignments while he's away are:
to take pictures of what he sees
to write a little about his trip each day in his journal
to do some math practice via iPad app
to have JavaMan read him two chapters from Story of the World
to answer some science questions based on experiments we did last week
and finally:
have the time of his life
To think I almost let him miss it!

Use Facebook to Comment on this Post