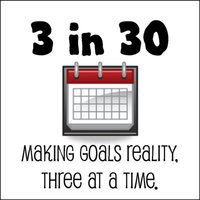 Wow. It's September. Does anyone else think the summer flew by? We traveled A LOT, moved, and I participated somewhat last-minute in a writer's conference. I will remember this summer with fondness.
But it's back to school, even though I still feel somewhat unprepared. It's such a comfort to know, however, that we don't have to start with everything all at once. We'll be starting off with just a few subjects, and adding others in as the weeks go on. For the last few days, we've been staying with another homeschool family, and of course we've had the chance to compare notes a bit, so I for one am raring to go.
Here are my goals for September:
Get school off to a good start. For me, this means getting back into a school routine, and starting my kids off gently with homeschool. It will be fun to include Sprout in our new routine, but I know that will be part of the challenge of things for the beginning of the school year.
Get back on track with the Bible in 90 Days reading plan. You may have thought I forgot about that! It's been a struggle to stay on top of the reading with all the travel, and a health challenge I may blog about at some future point. A couple of days this week, we were tenting, so even though I was up earlier and later than the kids, we were dependent on natural light, so couldn't read. I am determined to get back on track, though, and September and a slightly more normal schedule (we'll still have some travel on weekends) should help to facilitate that.
Finish revision of my manuscript and submit it. I am a little behind on my goals for this as well, but hoping the return to a normal schedule will help with this as well. I did quite a bit of work one day while driving in the car, and hope to do the same on Tuesday when we travel home.
Is September a fresh start for you too?

Use Facebook to Comment on this Post