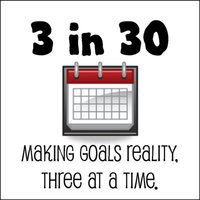 How do you prioritize when you have two or more things that seem equally important to you? That's my struggle this month. All three of my 3 in 30 goals are important to me, but I feel like they are at war with one another. I have felt at various times during the last week that I am sadly behind on one or the other of the tasks I've set myself to do, and have wished longingly for a single day to set aside and concentrate on one or the other of them. But the problem is that even if I had such a luxury–which I don't–while focusing on that one important task, I would be neglecting another important task I need to do.
Here's where I am with my goals:
Bible in 90 Days. Time to 'fess up. I should be entering day 70. I am actually on day 60. I'm not beating myself up about being behind. It happened for some very legitimate reasons, not the least of which was some serious side-effects from the hormones I was taking to sustain pregnancy, and later, the after-effects of miscarriage. Plus the fact that during all that time, we were staying in the homes of others, and not completely able to set our own agenda. I am enjoying the reading, and gleaning much from it, and it's something I don't want to completely give up on. But how will I catch up? Or do I just decide to make it Bible in 100 Days and be content with that?
I am not where I need to be with revision. I am still revising Chapter 32, and have some further work to do on chapters 11-17. The good news about all of this is I am getting better at the revision process. I can see my little mistakes more easily than I did at when I started (more details on the revision process in Friday's post).
I have no choice but to keep plugging away, so that's what I'm going to do. Despite the fact that I keep longing for some giant period of time to work on it, the truth of it is, the process is exhausting. I can't go at it full time without longing for a break at some point. And homeschool is important. My kids need me, so there it is.
Ease into homeschool. This is the only goal about which I'm happy with my progress at this point. I'm very pleased with how our first few weeks of homeschool have gone, and I'm delighted that my kids seem to feel the same way. We have had all kinds of fun learning together, I'm getting the hang of incorporating Sprout and making time for her in the schedule, and perhaps my biggest victory of all: I've gotten her reading beginner books and feeling proud of her reading accomplishments!
I am proud of myself for:
being organized (thank you , Well-Planned Day planner)
taking small chunks and then moving on to the next subject,
how we've eased in to the school year, adding new subjects gradually,
adding exercise to our morning. It has made a huge difference in attention span and ability to focus for the rest of the morning.


Use Facebook to Comment on this Post