Note: Two new reviews for After the Snow Falls came out this week: Mom in Love with Fiction and B00K R3ViEWS. I'd be delighted if you'd check them out.
It has been good to work our way back to the normal rhythm of life here. I must confess getting back in the groove of cooking and cleaning and market-going on top of the language and cultural challenges hasn't been completely smooth. For example, buying butter and cheese and other "Western" foods has to be done at a specific warehouse store quite a distance from our home.
When we lived here before, it was convenient to use the in-store ATM to take out the money to pay for purchases there. However, we discovered yesterday that doing so wasn't that easy. They've apparently replaced their machine with a different bank's machine, and our Canadian debit card didn't want to talk to it yesterday. We walked to the nearest bank that would work and discovered that the machine there was broken. At least an hour later, we were on our way again.
JavaMan and I usually handle this kind of experience with a shrug of the shoulders and a philosophical, "We're in China. What can you do?" But Pumpkin had had enough.
Nevertheless, we're still basking in the glow of all the wonderful things about being back here again, and feeling immensely thankful. And still counting to 1000 Gifts along with Multitudes on Mondays at Ann Voskamp's blog:
190.  Our kids have made new friends! It really is a case of being completely blown away by blessing. We'd prayed for friends for them, but could never have imagined they'd find friends so quickly. And Pumpkin has even found a friend who is as enthusiastic about Star Wars Lego as he is.
191.   Our new duvet. I'd promise this will be the last time I'll mention it, but I'm sure it's not. I had no idea how much the cold was affecting my sleep until our new custom-made cotton-filled duvet came into our lives. A friend helped me order it on Friday, and that evening we were sleeping under it. It's glorious! Warm and soft and cushy, and under it, I had the best night's sleep I've had since we arrived. In the morning, I was full of vim and vigour, ready to take on the day.
192.  Our apartment is starting to look like a home! Even without our furniture (which will arrive sometime in the next month or so), we are starting to have that moved-in organized feeling. I've sorted some of my clothes and they are sitting neatly on a shelf in our closet, the kids each have a bin of their own clothes, and we assembled some shelves and a coat rack we had in our old (furnished) apartment, and things are starting to take shape and feel like home. We're still eating around a collection of empty bins with a tablecloth slung overtop, but it's cozy and we're together. I'm learning that counts for a whole lot.
193.  Memory. More and more Chinese is coming back to me. The other day, one of the kids saw something that reminded them of the shape of a deer, and I actually remembered how to say "deer" in Chinese to explain to our Chinese friend. The brain is a wonderful, mysterious thing. Just where was I storing that tidbit of information over the last couple of years when I didn't need it?
194.  Flexibility. Our kids had pretty long faces at the airport, leaving Grandma and Grandpa, and while they certainly haven't forgotten about life in Canada or the people there, they are happy to be reunited with some of their long-lost possessions and busy playing with some of their almost-forgotten toys.
195.  Reunions. We continue to meet up with old friends. I'm looking forward to a particular meeting today. We're going to see Brandon's former art teacher. We are taking him some art supplies from Canada, since he can't always find the quality of supplies here that he would like.
196.   The itch to get back to homeschooling. I am trying to be realistic about what we can accomplish here while it's still very cold and the furniture is yet to arrive, but as we put our homeschool books away last week, the itch to begin again is definitely there. I think regardless of temperature we'll move one of the heaters upstairs next week and begin afresh.
197.  My view. There are no curtains on my windows right now–something we do plan to address, but when I wake up in the morning, I look out at a mountain–a small mountain, but a mountain nonetheless. We're looking forward to climbing it, and plan to do that next week when JavaMan has to be out of town for a few days. He's already been up it on one of his runs, and says the view is spectacular. Pictures to follow.
198.  My new camera. Finally bought an SD card for my new camera. I'm looking forward to being able to take my own pictures for this blog. Up until now, I've had to borrow from my husband or my son. Again, pictures to follow :)
199.   Language learning tools. Maybe a strange thing to be thankful for, but the urge to learn more Chinese is always there as we attempt to communicate. I do very well for having had no formal instruction, but I long to be completely fluent. I'm thankful we've found resources that really work to help learn the language. (For more on the resources we use, check out Hold the MSG.com.)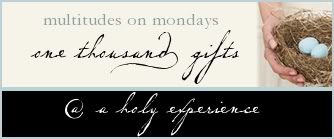 Use Facebook to Comment on this Post