Today, I'm reviewing an unusual picture book called Abraham's Journey: A Celebration of the American Dream. If you've hung around here for any time at all, you probably know I'm a Canadian, living in China. So why would I choose to review a book about the American dream?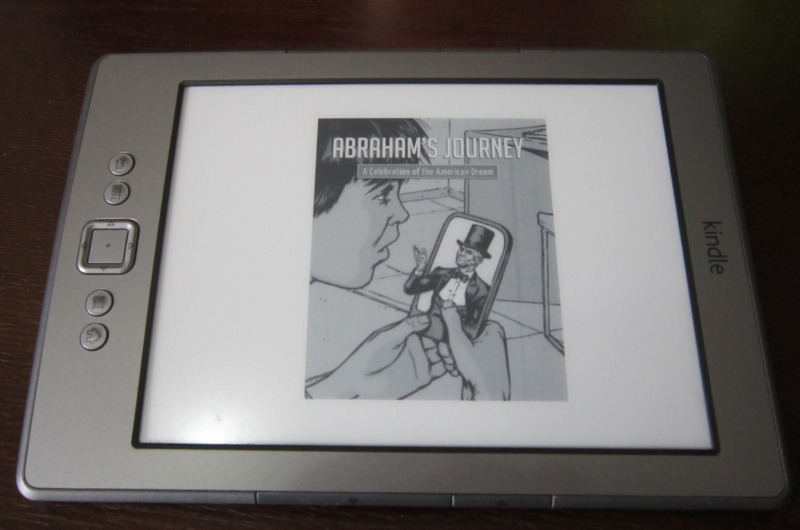 Though our countries are neighbors, and we look and speak generally the same way, there are actually quite a number of fundamental differences in the way Americans and Canadians think–our worldviews. And the American dream is a fundamental part of American-ness–what the authors call their "unique American ideal"–necessary to understanding Canada's biggest, rather influential neighbour to the south. Five of my children's seven cousins were born and are being raised Americans, so it's personally important to us as well.
The story follows the experiences of a young boy named Abraham in the weeks leading up to Christmas. The family is suffering the effects of the "Great Recession." Both parents are out of work, and they announce to the family they won't be able to afford to buy Christmas gifts that year.
Enter Abraham Lincoln to encourage young Abraham–straight out of his smartphone. Mr. Lincoln introduces the young Abraham to a number of notable Americans–each of whom inspire him in some way or other: Dr. Martin Luther King, Jr., Norman Rockwell, Amelia Earhart, Mark Zuckerberg, and Bill and Melinda Gates. They teach him a variety of lessons from believing in and pursuing his dream to the power of social media to build a platform. In the end, as Abraham takes to heart the lessons he has learned, he is able to provide the Christmas gifts he hoped to buy. He is also able to touch others' lives in an act of philanthropy, in what the authors call a "true celebration" of the American dream.
Below is an excerpt from the book: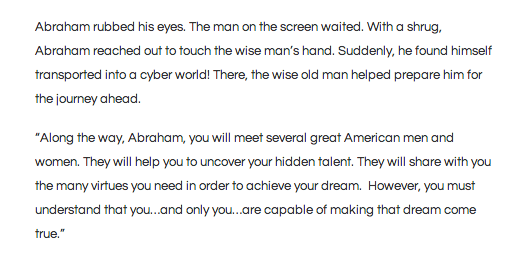 We're about to switch gears in history from what amounts to a unit study on Canadian history from 1850 to 1900 to a study of America during the same period. We'll be studying the civil war and President Lincoln, and our studies this year will take us right into modern times, so I thought this book would be an interesting introduction to the ideas and historical figures we'll encounter.
What I didn't count on was the switch this story represented for my kids. The story is billed as a "21st century time-warp" tale. But since most of the fiction we read begins in the past, the 21st century starting point of this story, using smart phones and cyberspace, threw them off at first.
But in the end, they found the story interesting, and it made a good jumping-off point to discuss the American Dream and what it means. The picture book format of the story makes it suitable for use with elementary school children. The book is available for purchase directly from Inspiring the American Dream or as a paperback
or for Kindle
from Amazon. The paperback is $14.99.
Unless, you have a Kindle Fire, however, and are able to view the text and illustrations in color, I would suggest the print version rather than the e-book. The pictures were small and the text challenging to read on our humble budget-version Kindle: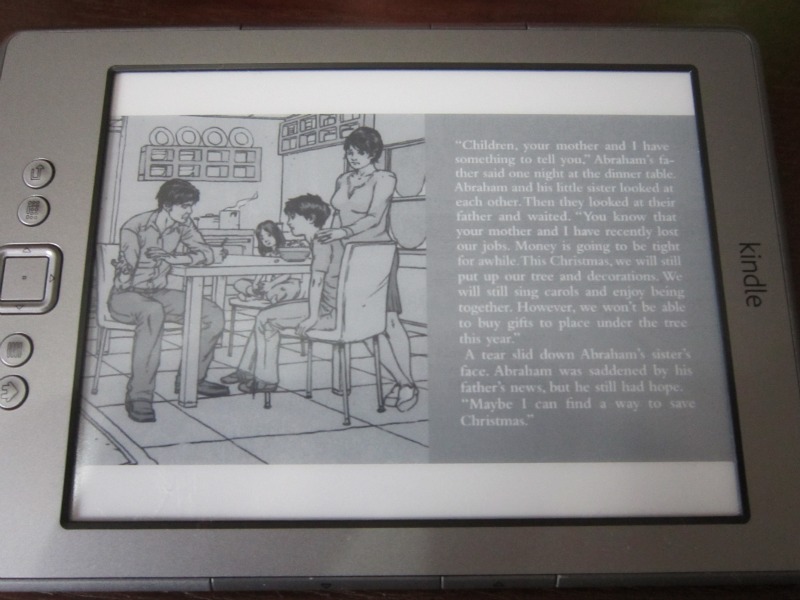 Want to know what others thought of the book? Click on the link below to be directed to the Schoolhouse Review Crew post and other blogs reviewing this resource.

Disclaimer: I received a free copy of this product through the Schoolhouse Review Crew in exchange for my honest review. I was not required to write a positive review nor was I compensated in any other way. All opinions I have expressed are my own or those of my family. I am disclosing this in accordance with the FTC Regulations.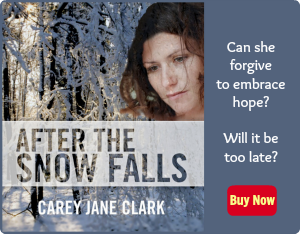 Use Facebook to Comment on this Post