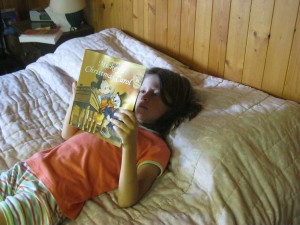 I have three children, and I have used three different approaches to teach them to read. The reasons for this are numerous. In part, it's been geographic. We moved to China while Sweetpea was still learning to read, and have moved back temporarily while Sprout has made her first steps in reading. The BOB Books Sweetpea loved are in a storage in China, and not available to Sprout. Sprout has started reading much earlier than her older siblings–mostly because she sees them reading and has been eager to read before they cared to.
The other reason we've changed things up a bit is because the same thing hasn't worked for every child. Happily, with homeschool, we aren't stuck using the same thing. Here's what we've used for each child:
Pumpkin – Teach Your Child to Read in 100 Easy Lessons. After that, Explode the Code.
Sweetpea – Explode the Code Online
Sprout – Headsprout Early Reading and Beginner Books (Green Eggs and Ham, Are You My Mother?)
Pumpkin loved to read. When he was not quite two, he would sit still and let me read to him for hours on end. We read in bed, we read on the potty, we read and read and read. My sister gave me her copy of Teach Your Child to Read in 100 Easy Lessons. We sat and read some more. Only this time, he was learning to read.
We encountered a little resistance at one point, and I didn't want to push, but I dug a little deeper. Turns out he'd decided that if he learned to read, I would stop reading to him. Since we're a literature-rich homeschool, I assured him that would never happen. Once we worked our way through that, he was off! However, once we finished 100 Easy Lessons, it was clear he needed further development in phonics. We were just trying Sweetpea with Explode the Code (see below), and decided to subscribe for him as well.
Today, he's nine, and spends hours with his head in a book. It amazes me how fast he goes through a story, and how much he gains from his reading.
Sweetpea, however, was a different story. She didn't sit to do anything. While I read, she was less likely to sit calmly beside me–more likely to play with Legos, draw something, or just stand on her head. This was a bit of a struggle for me, but I followed a suggestion from Sonlight Curriculum–as long as there was no talking, she could play quietly while I read. When we practiced oral narration, she always knew right where we were in the story, and what it was all about. (In fact, she is our oral bookmark. If we can't remember where we left off in a story, she can tell you the exact details–often the last three words we read!) I needed a more interactive approach for her. We chose Explode the Code online (with discounts through Homeschool Buyer's Co-op).
We used the BOB Books with Sweetpea too. She was very good at guessing what the words should be, and I had some doubt about how much she was actually decoding. We backed up and went through them again. When we finished the second time, she was really reading.
Sprout was eager to get going very early. And she wanted success right away. It frustrated her to pick up a book and only recognize one or two words. Once she figured out a few words, she wanted to be the one to read all of them. If I tried to get her to read one or two, she would get angry about it. And if her siblings brought a book home from the library, she figured she needed to be able to read something for herself too. Explode the Code wasn't getting her there quick enough. So we tried Headsprout. She's now starting the second series. She turned five last week, and she's reading sentences like: "Vee is sleeping and she feels cold." We've also used a lot of repetitive stories with her like The Little Red Hen and the Gingerbread Boy. We're using an ePub from Yesterday's Classics.
But what if there are bumps along the way on your reading journey? How do you know if your child needs remedial help? We encountered that issue too. Next week: what to do about it.


Use Facebook to Comment on this Post