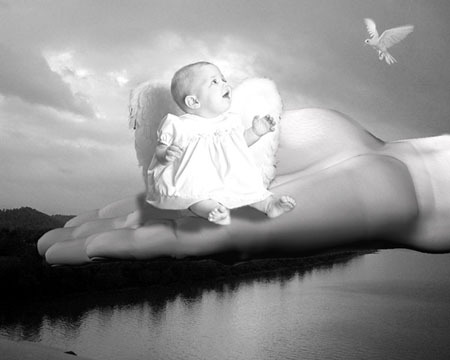 I have procrastinated about posting this page on my site. At the same time, I feel like part of our story is missing if I don't tell my readers about the challenges we have faced in this area.
In June 2010, one week after arriving in Canada after our first two years in China, I miscarried. I was ten weeks along, but the doctor reported that the baby hadn't developed beyond six weeks. He diagnosed a blighted ovum pregnancy.
After three relatively simple, healthy pregnancies, this came as a shock to me, to my husband and our three children.
In November of the same year, I experienced another miscarriage at eight weeks, even after a healthy heartbeat had been detected at seven weeks. At the time, I was under the care of a physician and was receiving injections of progesterone.
In September 2010, I experienced yet another miscarriage. at six weeks. I didn't have the opportunity to carry these children in my arms, but I carry them in my heart.
What I have learned, among other things, is that miscarriage is a silent grief–that people don't talk about it. And when I have discussed it, I am aware that it can make others uncomfortable. But I believe that talking about it and recognizing it is a healthy step in the grieving process.
If you have also experienced miscarriage, here are some helpful and comforting resources:
Comforting a child after a miscarriage
Molly's Rosebush
– a story to help children cope with loss due to miscarriage. I am a big believer in the healing and comforting power of story.
Each miscarriage was a different emotional experience for me. Unlike some who share my faith, I do not believe that "God takes away." I believe that the evil (the stealing, killing and destroying) in the world–whatever form it takes–comes from a different source from that of my heavenly Father, who has only good gifts to give, and who sent Jesus to give abundant life.
After the last miscarriage, a scripture became very real to me:
18 yet I will rejoice in the Lord;
I will take joy in the God of my salvation.
Habakkuk 3:18
In large part, our attitude toward the circumstances life hands us is a matter of choice. I choose to be grateful for the beautiful children I do have and focus on loving them.
I also found unexpected comfort recently on a roadtrip as my family and I listened to the audiobook version of Heaven is for Real
. I encourage you to find yourself a copy.
If you have experienced the grief of miscarriage and need someone to talk to, feel free to use the contact link on this site to get in touch with me.

Use Facebook to Comment on this Post