A week ago, I mentioned I wasn't sure what kind of diet we were eating. I believe I have decided.
A little more than a week ago, I began to eliminate meat and animal products (like eggs and dairy–the only dairy left in my diet was raw milk kefir) from my diet, and began eating a diet of 85% raw fruits and vegetables, and 15% cooked food.
It sounds like a radical decision, but there is some background to the story, which I will explain in the very near future. In the meantime, I've been on a quest to introduce my family to delicious foods that will convince them that this decision is liveable–even enjoyable. It's had me scrambling, rifling through cookbooks and scouring the internet for new recipes. I've also ordered some cookbooks, but they are obviously on the slow boat to China.
I found this little gem in a book I bought some time ago, and never really explored fully. It's brilliant because everything goes into one place and cooks together: the rice cooker. Hey, I have one of those!
This recipe has been such a hit that my most picky eater has specifically requested it twice since I made it the first time. I made it (and took the picture of it) today, but didn't have the red pepper the recipe called for. Still delicious!
The recipe calls for white rice, but I always cook with brown rice. I added the vegetables at about 20 minutes into the cooking cycle (which is about twice as long as that). Also, I used fresh tomatoes, not canned, so added them along with the onions to soften up a little before adding them into the rice cooker.
Enjoy!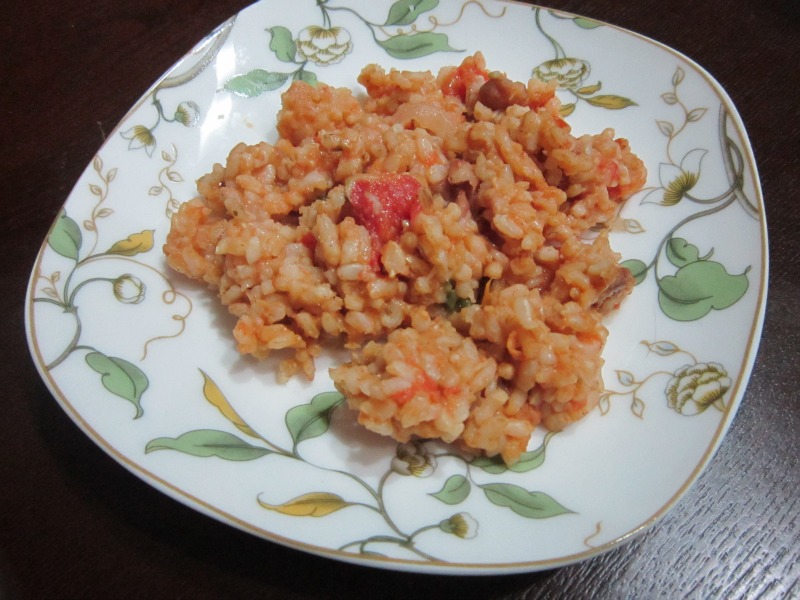 Ingredients:
1

cup

long-grain white rice

1

cup

chicken or veggie stock

pinch of salt

1

Tbsp.

olive oil or vegetable oil

1

large

yellow onion

1

red bell pepper, halved, seeded, and sliced

1

jalapeno chiles, seeded and minced

1

15-oz can pinto beans, drained and rinsed

1

15 oz can plum tomatoes

1

tsp.

crumbled dried oregano leaves

2

Tbsp.

capers, rinsed

freshly ground black pepper

3

Tbsp.

fresh cilantro leaves, chopped, for garnish
Directions:
1.
Coat the rice cooker bowl with nonstick cooking spray or a film of vegetable oil. Add the rice, stock, and salt; swirl to combine. Close the cover and set for the regular cycle.
2.
While the rice is cooking, heat the olive oil in a large skillet over medium heat. Add the onion and bell pepper and cook, stirring, until softened, about 5 minutes. Open the cover of the rice cooker and add the jalapeno, onion-pepper mixture, pinto beans, tomatoes, oregano, capers, and a few grinds of black pepper, stir to combine. Close the cover and let the cycle complete.
3.
When the machine switches to the Keep warm cycle, let the rice steam for 10 minutes. Fluff the rice with a wooden or plastic rice paddle or wooden spoon. This rice will hold on Keep Warm for up to 1 hour.
4.
Serve hot, garnished with the cilantro.


Use Facebook to Comment on this Post