Today I'm reviewing a dynamic math fact practice software called Math Rider. I was really excited to be able to review this product, since I had begun to feel that our kids were stalled out in math due to lack of mastery of the basic math facts, but flashcards and other traditional strategies just didn't seem to be working for us. When I showed the initial video from the Math Rider website to my kids, they were excited as well.
As soon as we had the program downloaded, the kids were clambering to use it. The program works on both Mac and PC platforms–perfect for our family, since we have one PC dedicated to homeschool purposes, as well as my Mac that is called into service when we want to have two children using a computer at the same time.
The Appeal of Math Rider
Math Rider was particularly appealing to all of us for a number of reasons. I was interested in the program because it promised to insist on mastery before moving a child on, and my kids were excited about the adventure aspect to the program. They had been using another computer-based math program, but as they progressed through the grade levels, the program changed from an adventure-based one to a rewards-based one, and they found this less appealing.
Since the Math Rider story involved horses, Sweetpea was sold right away. The other kids also enjoyed the fairytale quality to things.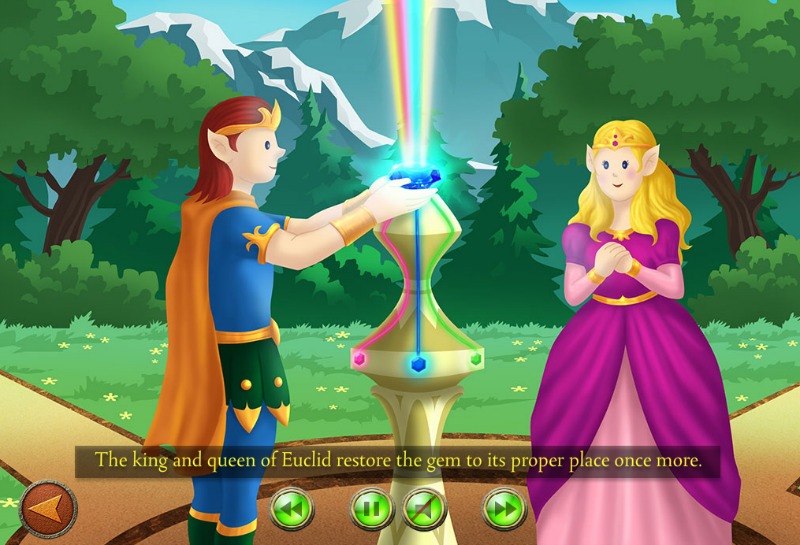 The heart of the program is simple mastery of math facts, first addition, then subtraction, multiplication and division, working in stages through facts with the following number ranges:
up to 5

up to 10

up to 12
By solving the equations, the player's horse, Shadow, can jump over the hurdles and progress toward the castle. The creator of Math Rider recommends that regardless of level, users should start with beginner addition (up to 5) and move through the addition levels until mastery is achieved, then move on to subtraction, and eventually multiplication and division.
All instructions for the program are given both on-screen and orally. Pleasant music plays in the background during the "rides," but there is the option of turning it off as well. My daughters seem to enjoy having it on while they answer the questions, but my son turns it off.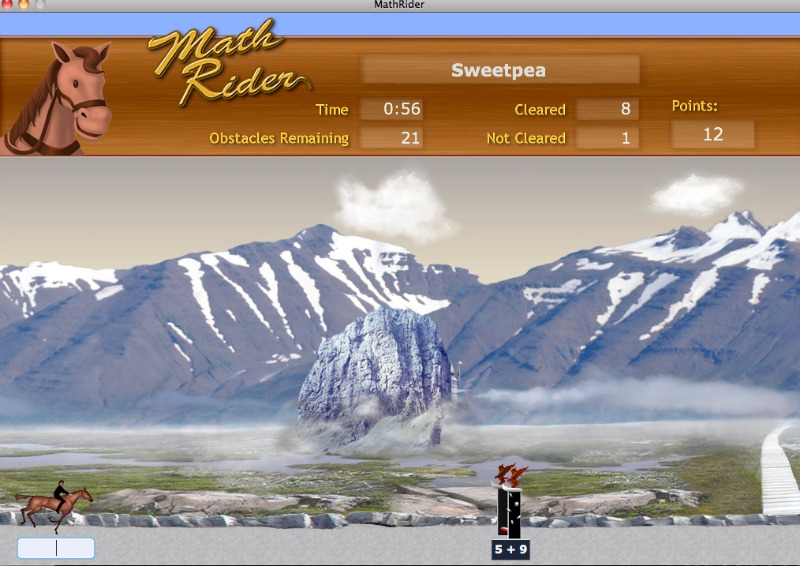 After the ride, a screen appears to report to the player on his or her progress for that ride, and show areas needing improvement. Questions with longer bars or yellow or red bars indicate questions which were answered more slowly than the average or that were answered incorrectly on first try: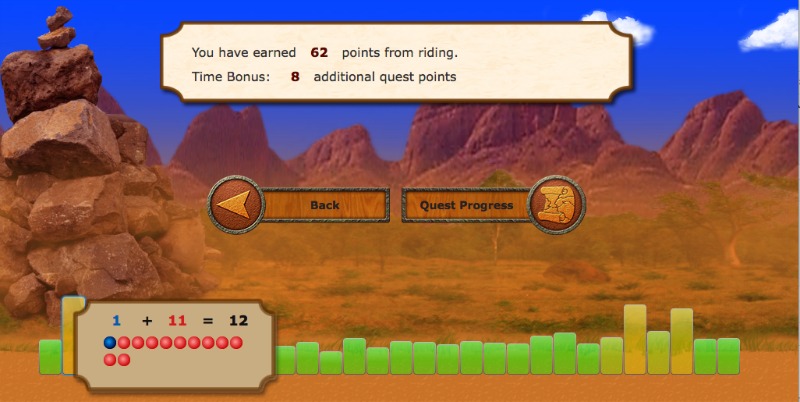 If a player answers incorrectly, the ride stops so they can be told the correct answer (again both on-screen and orally).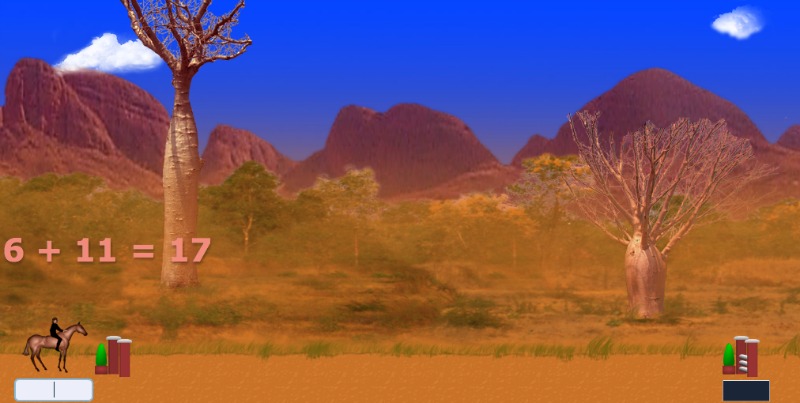 Focus on Mastery
I could not have predicted how involved my kids would become with this program! This was a good thing, but it also involved a few heart-to-heart talks. While my son became a bit discouraged at times, he was able to turn this into determination to do better, but my daughters ended up in tears more than once when they failed to complete a goal with complete mastery!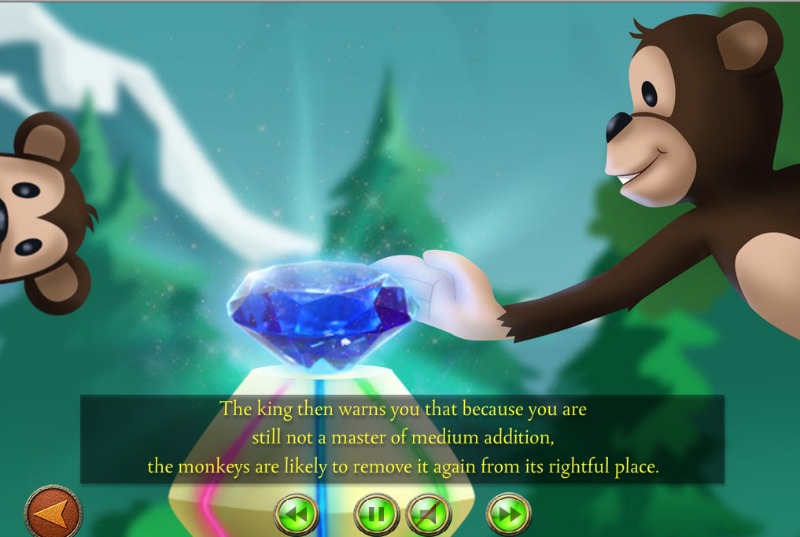 At first, I asked if we should just quit using the program. After all, we've had some rough days with math, but I couldn't remember the last time we'd ended up in tears! Both daughters were adamant that they really liked the program and wanted to keep trying. We decided to try to keep our eye on the statistics board at the end of each math "ride" and work hard toward mastery, knowing that if we persevered, we would continue to improve a little each day. And we had to recognize that some days just aren't good math days, and that's all there is to it.
Progress
Below is an image of the statistics board in Math Rider, showing how Sweetpea has improved over the time she has used the program, as well as the problems she's found challenging and her overall mastery level: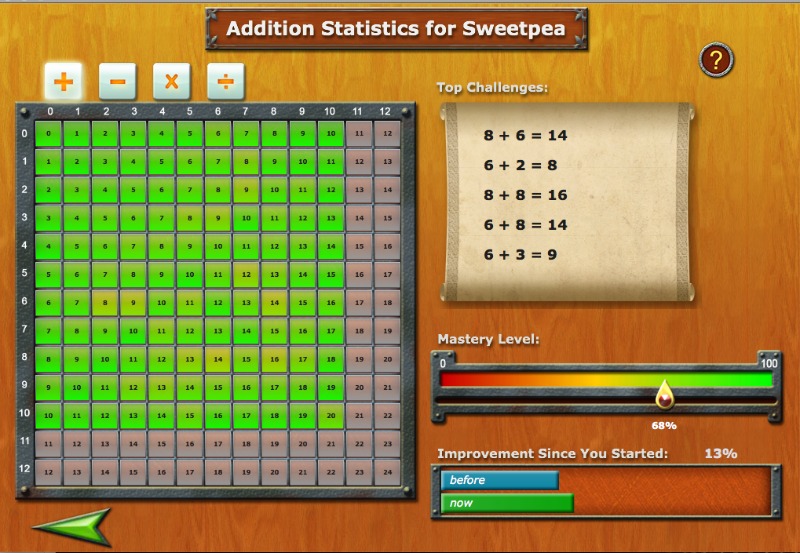 We used this program every day at first, but switched to every other day when we faced the challenges we did. We continue to use Math Rider three or four days a week, and we're very happy with it. Though the review period is over, we plan to continue using it until we are math masters in all four skills.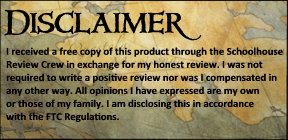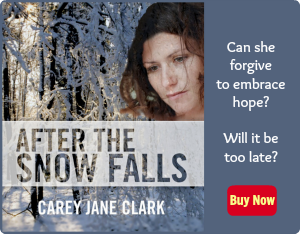 Use Facebook to Comment on this Post