I love homeschooling my kids. I do. It's often hard for me to tear myself away. I could keep going all afternoon. I only break because I know their attention spans can't hold on any longer.
But as we headed back into the school routine this year, I decided that we should take a four-day schedule and make Fridays "checklist day." When we were back in Canada and I was seeing doctors with pregnancies, I came up with checklist days. I'd write a checklist grid for all three kids to check off when they had completed certain activities. I'd make a list of things they could do fairly independently:
logic puzzles – we have a collection of these, enough for everyone to find something they might be interested in
GeoPuzzles – love these (they probably deserve their own post)
Dreambox Math OR assigned pages from Math-U-See
a writing assignment
copywork
handwriting
Rosetta Stone
The kids LOVE the independence. Typically, I'll tell them three things on the list are required, the rest optional. Everyone can govern their own time and decide what to do first, second or third, provided they finish everything on the required list on their respective checklist. This school year, as I contemplated wanting a little extra time to write, we decided to make "checklist day" into "folder Friday" and make it a regular part of our homeschool week.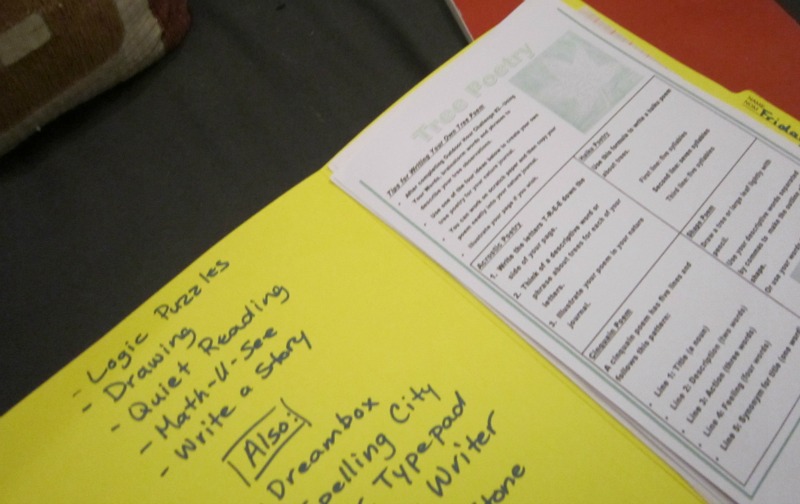 To make it a little easier for JavaMan who is working at home, but on standby to help the kids with anything they need during this time, I put together these file folders. On the inside cover is a list of activities each child can do. I can fill up the folders with any worksheets they can complete that day. (We're not a huge worksheet family, but I usually find something fun for the folder on Fridays). My printer's color ink is fading, but I think you can see the Tree Poetry worksheet that came from the Handbook of Nature Study newsletter last week, tucked into Sweetpea's folder.
In addition, Sprout has her own drawer of activities that are just for her:
sight word matching cards
spool knitting supplies
Hot Dot phonics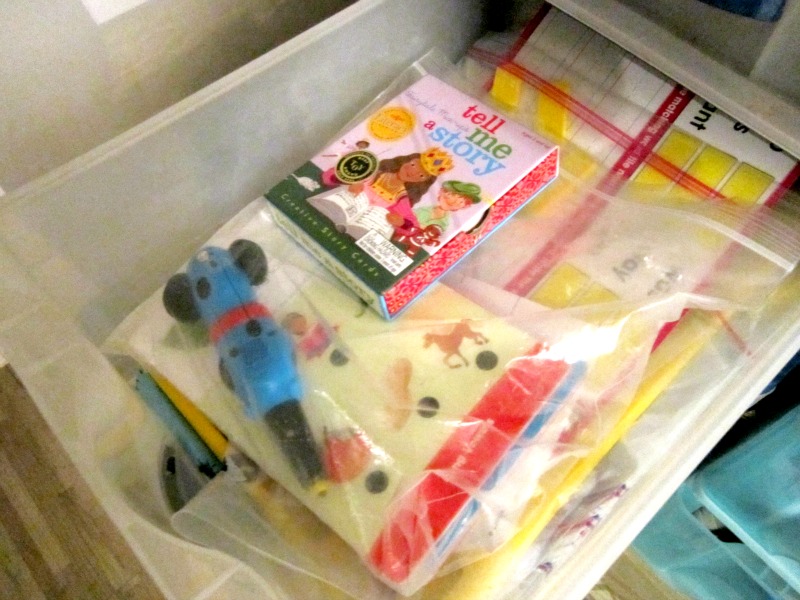 The essentials are Math and Rosetta Stone for Chinese.
So what am I doing on folder Friday? I'm so glad you asked.
I'm holed up in my room doing my best to ignore Facebook and other distractions while I write to my little heart's content. It's such a lovely way for me to feed my creative soul. It's a little thing my husband started doing for me back when Sweetpea was tiny and things seemed very intense for me as a mother with two young children, one who never slept!
And with all the moving and settling in, it had been a while since I had a "writing morning," but we're back at it now, and it's going very well. I may even participate in NaNoWriMo, I'm feeling so good about things. We'll see. Just five days left to decide!


Use Facebook to Comment on this Post