Last week here in China was Mid-Autumn Festival, also called Moon Festival or "Golden Week." We spent the whole week visiting with friends. The weather was absolutely beautiful.
Moon Festival lands on the 15th day of the eighth month of the Chinese lunar calendar, so it moves around a bit in terms of where it lands in September/October.
A big part of the celebration of the festival is eating mooncakes. They are a traditional food, which we actually enjoy quite a bit, but we are told that they are kind of like the Chinese version of fruitcake. Not many people actually like to eat it, but everyone takes a bit to celebrate the season.
I thought it would be fun for the kids and I to try to make mooncakes. I spotted mooncake molds at the baking supply store we frequent (an essential stop for buying things like butter, cheese and cocoa at good prices). The store also sold the filling and two essential ingredients that I shopped all over for before I realized they were right back at the store where I bought the molds. Everywhere else, people looked at me strangely when I asked for them. (Not that this is an uncommon experience for me here!)

It's actually rather rare for people to make their own mooncakes. Even my quintessential kid resource on Chinese cultural festivals, Moonbeams, Dumplings & Dragon Boats
, which usually offers a recipe to go along with each festival, simply said that most people buy their mooncakes. And in buying mooncakes, presentation is a big part of things. A good quality box of 12 or so mooncakes can run you up to $100 or so. Much of it is about the bling on the box: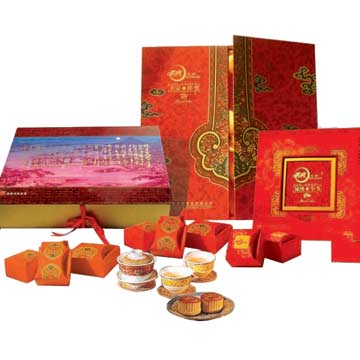 I still thought it would be fun to make our own.
Mooncakes vary depending on region, but here in the north, the most popular type of mooncake contains nuts (and that's our favorite) so that's the kind of filling I bought. I dug up a recipe for the pastry from an expat forum, and we were in business. [This recipe has now been removed, and I have posted it here.]
The dough is really unusual. The recipe said to mix it in a "large bowl" but when I was only using 100 grams of flour I wondered. Indeed our lump of dough was pretty puny, and instead of making 12 standard mooncakes, it made only 6 small ones (I bought small molds).
If traditional mooncake molds aren't a collector's item, I think they should be. They're so beautiful: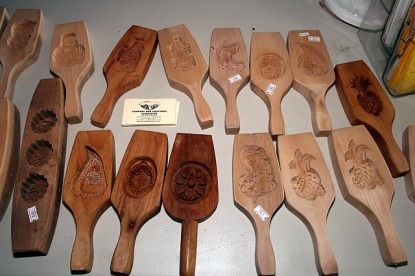 Ours is new-fangled, and spring-loaded, which definitely makes mooncake production easier!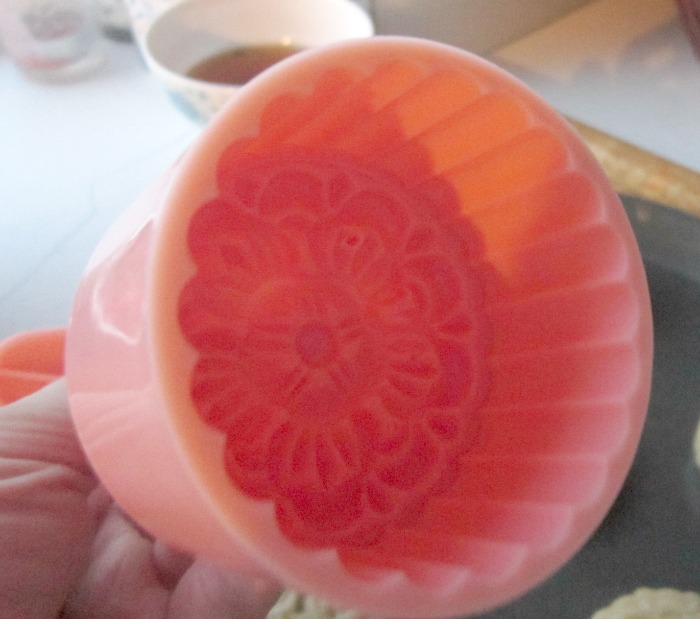 The basic steps began with rolling out the dough, which is sleek and oily-looking, but in reality the oil content is very low (the sugar content, however, is pretty high!). According to Sweetpea, who ate the last leftover bit, it was yummy all on its own. I tried a few first to get the hang of things and then Sweetpea took over: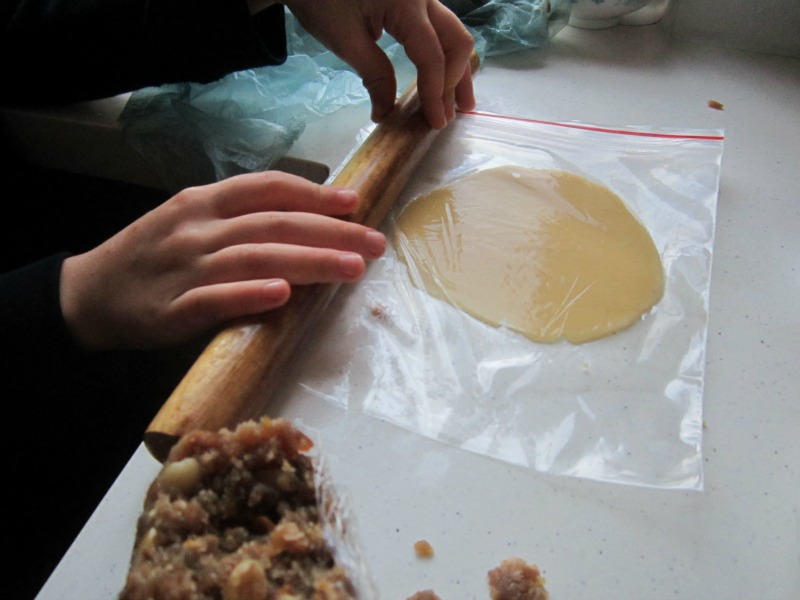 The recipe says to roll it between "plastic film" but I cut two sides of a ziplock bag, and used it. It stayed put and peeled back much more easily than plastic wrap would have.
The unidentified lump in the foreground of the picture above is the lump of filling. After rolling out the disc of dough, you form a ball of the filling and wrap the dough around it, then fit it gently into the mold. We pressed down gently on the cookie sheet to make the beautiful pattern on the top, then popped the mooncake out, ready for baking.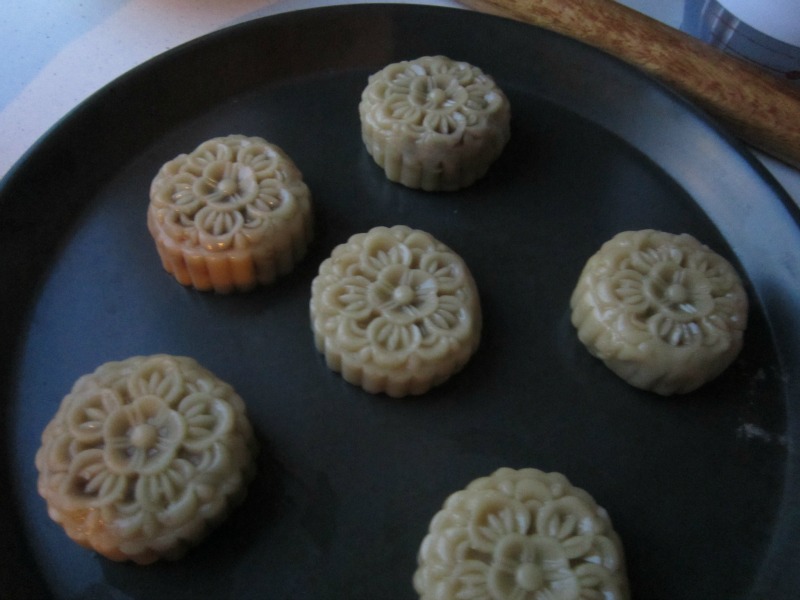 After this, all that's left to do is bake them for 10-12 minutes. Halfway through the baking time, the mooncakes need to be brushed with an egg wash. (This makes them shiny when they're all done. I was pretty generous with the egg wash, which was a good call.)
Like fruitcake, the  mooncakes get better if they're left a couple of days to allow the filling to soften up the dough. But we sampled them right away anyway.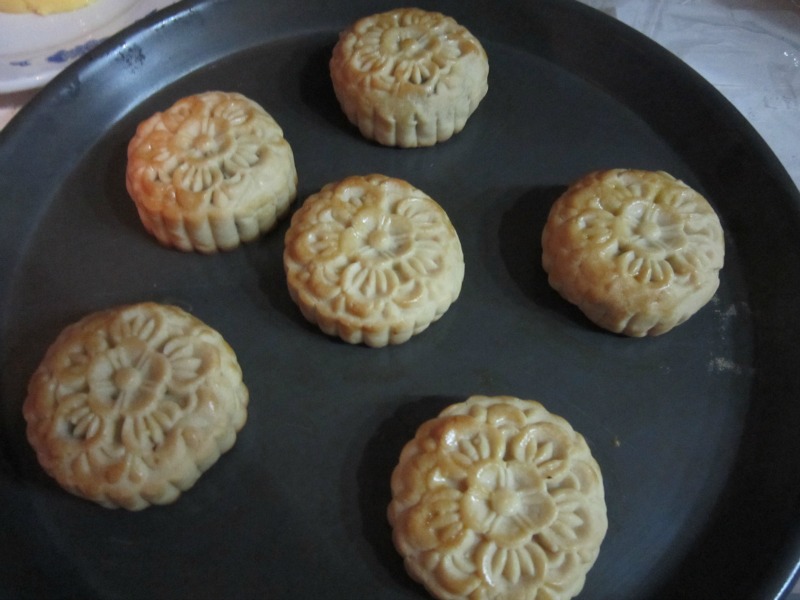 Chinese friends who visited for Canadian Thanksgiving were impressed with my efforts–they'd never seen them homemade before–but upon tasting them, declared they could tell the filling was commercially produced and challenged me to make my own filling next year. They also said I should come up with unique fillings that aren't as sweet as the traditional ones, because less sweetness is appreciated by the Chinese palate.
We found the process a lot of fun. I think I may be up to the challenge!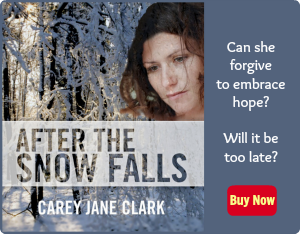 Use Facebook to Comment on this Post