I've mentioned that coming into the new year, I knew I needed to make some changes to our homeschool schedule. The truth is, I needed to make some changes in me. I recognize the success of our homeschool is largely dependent on me having my own act together.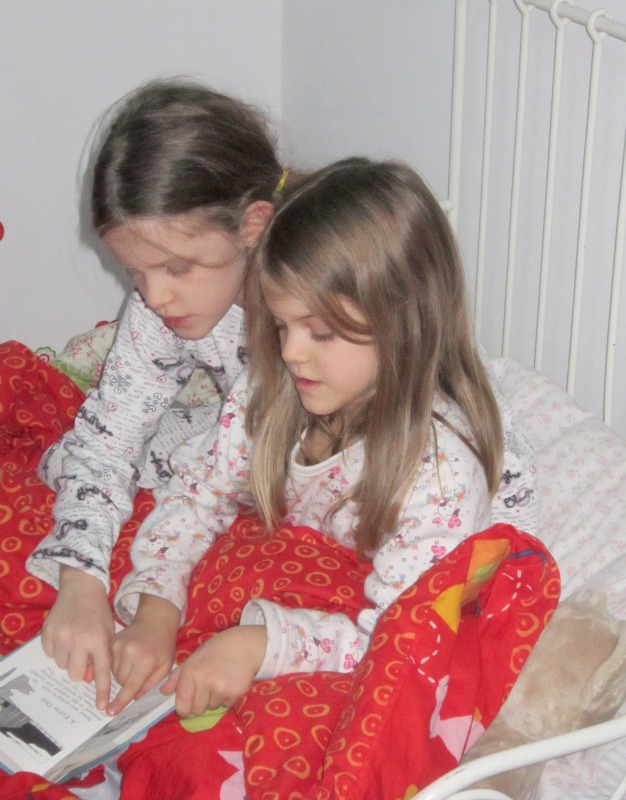 The two areas I needed to take control of:
Getting to bed on time. Establishing this habit means I can get up before everyone else in the morning and take charge of my day before it takes charge of me.
Putting more time into planning the school day. This is a hold-over from the days when I used Sonlight curriculum. One of the big boasts of that curriculum is that you can literally pick it up, turn to your schedule, open up your books and go–no prep required. However, I've moved a long way from those days, and a lot of the curriculum I use now requires things to be printed out in advance or even created.
Relaxing and letting the kids take an hour at their meals. My kids are slow eaters and there's nothing wrong with that. Previously, I tried to cram our eating into half an hour to get on with the "more important" things. I've finally learned to relax and realize that our time together over a meal is one of the important things. And I've brought devotions to the table. When I finish earlier than my kids, I can initiate our Bible memorization or read our lesson to them.
More on Planning
Our Chinese tutor quit as we came into the new year, and this meant I needed to come up with a new approach. I have a whole lot of wonderful resources to make use of, now was the time to put them to use. But they all require me to do some advance preparation.
I've also adopted some new methods in the area of language arts, and they have required me to put a little extra preparation time in while I get accustomed to a new way of doing things.
I'm very happy about all these changes, but I needed to put in the extra time in the evening or afternoon to implement them. I finally made that decision.
The result this week has been so satisfying. We all loved the freedom our schedule brought. In conjunction with this, I finally got organized with meal planning, and used my crockpot heavily this week. I even went vegetarian much of the week, which was another goal I had hoped to put in place this year.
In the evenings, we've been spending time reading together, something our winter schedule affords, the rest of the year less so, as it's Chinese custom to eat dinner earlier and go outside for some after-dinner exercise. We try to join in as much as possible to get to know our neighbors.
If you'd like a closer look, here's our schedule. My thanks to Erica at Confessions of a Homeschooler for the template.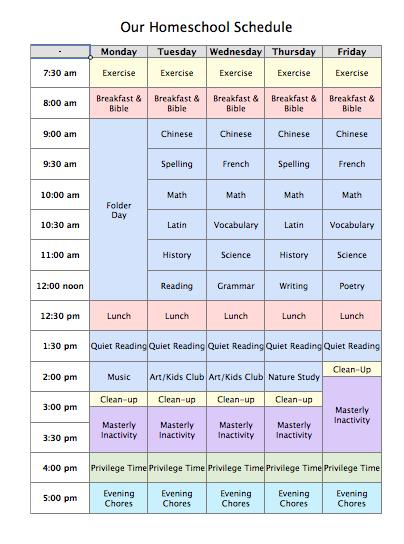 More on Folder Day here. JavaMan spoiled my alliteration by asking me to move it from Friday, since it fits better with his work schedule. More on Masterly Inactivity here.


Use Facebook to Comment on this Post