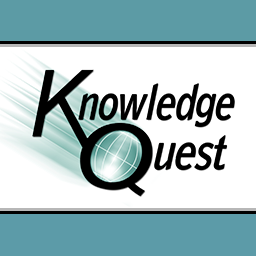 Today, I'm reviewing the Timeline Builder App from Knowledge Quest. I was thrilled to have the chance to review this product. If you've been around these parts for a while, you'll know that because we live in China, I'm always looking for portable and electronic solutions for our homeschool resources. The chance to review this app coincided with JavaMan's purchase of an iPad for his business. So occasionally, he has to hand it over so we can use it for educational purposes, like with this great app.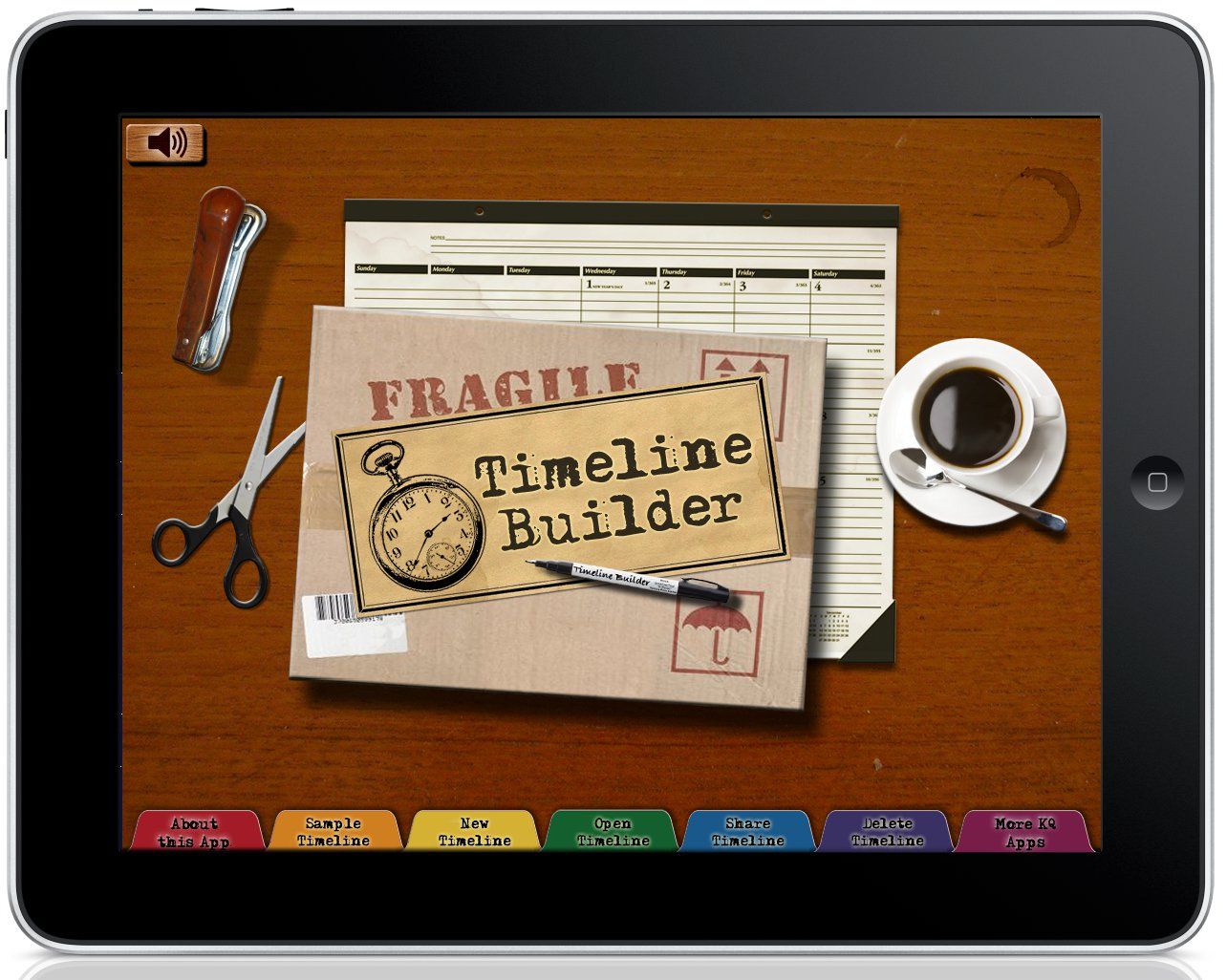 Some time ago, we began using an online timeline to replace the very heavy, not-so-portable Book of Time we had begun with our previous curriculum. After we lugged it to China and back to Canada again, I began looking for a more portable solution.
Better than Online Options
Unlike online options, the Timeline Builder App is light and quick easy to use, and available anywhere you take your iPad. I love the way the thumbnails can be adjusted to fan out from their dates when events are more dense. To use the app, you start by creating a new timeline. In our Book of Time, we had one long timeline from Creation through to modern times, but we'd broken our online timelines into the four classical time periods (Ancient Times, Medieval Times, Early Modern Times and Modern Times).
At first, we decided to create one big timeline from Creation with the Timeline Builder App, but soon found that a bit unmanageable, and decided to do the same thing we'd done online and break it up into the four periods. We're studying Modern Times this year, and we've (ahem) been taking our time through the events, enjoying all our living books along the way. Although we had already plotted these events in the online program we'd been using, we used the Timeline Builder App to review past events and going forward, to plot in new ones. It's nice to be able to pass the iPad around so everyone has a chance to contribute.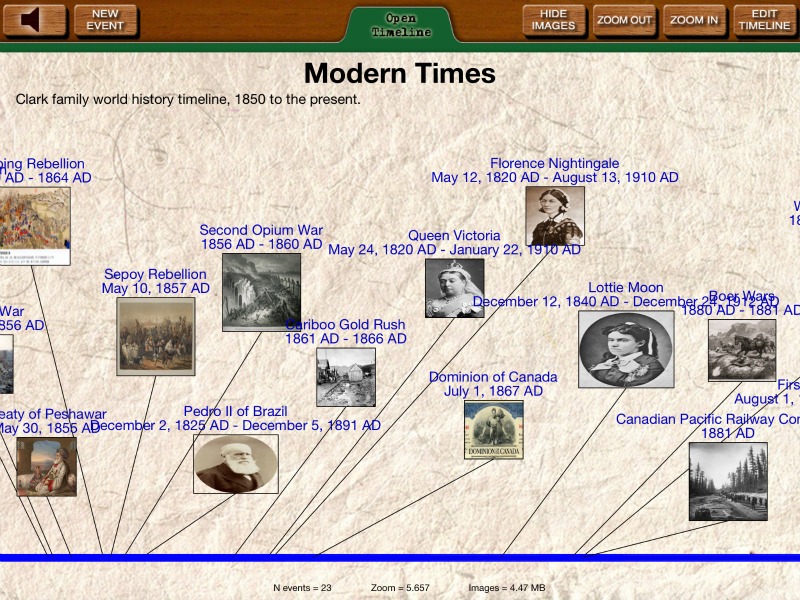 New events are added in a similar way, but as you're adding them, the app can take you directly to Wikipedia (our chief online source for verifying dates and choosing images, etc.) in order to find an appropriate and memorable image to go along with the event. Images can also be imported from an existing library or found on any website.
Can I just say how wonderful this app is?
Better than Paper-Based Timelines
Previously, with our book-based timeline, we had been provided a set of stickers that corresponded to our curriculum. But when we stopped using that curriculum, and still wanted to continue building our timeline, we had difficulty finding appropriate resources to go along with it. I did find a set of stickers from another company for the year we were studying (I believe it was Medieval Times that year).
And at first I thought this was perfect. But then we had a dilemma.
Occasionally, we'd have a sticker for a person we hadn't studied. And we would have studied people or events for whom there was no sticker! What then? As we've moved more into modern times, and want to record events of Canadian history, this has been even more difficult. No homeschool company has created resources to fill in Canadian historical events on a paper-based timeline. We also put quite an emphasis on learning about the events in Chinese history. Most timeline companies create resources with a decided focus on Western history.
Completely Customizable
With the Timeline Builder App, you can customize a timeline that's entirely your own. As part of the oral narration for a lesson, we'll talk about what significant events or people we should remember for the material we just read. Then we open up the Timeline Builder App and write a little about it, choose a picture, and our timeline is updated, giving us an excellent overview of the period we're studying. The app gives an overall view that shows the image and the title of the event or person, but by tapping on an icon, you can read an entire description. To refresh our memories, I can even insert a note about what living book we read to go along with our study of that time period.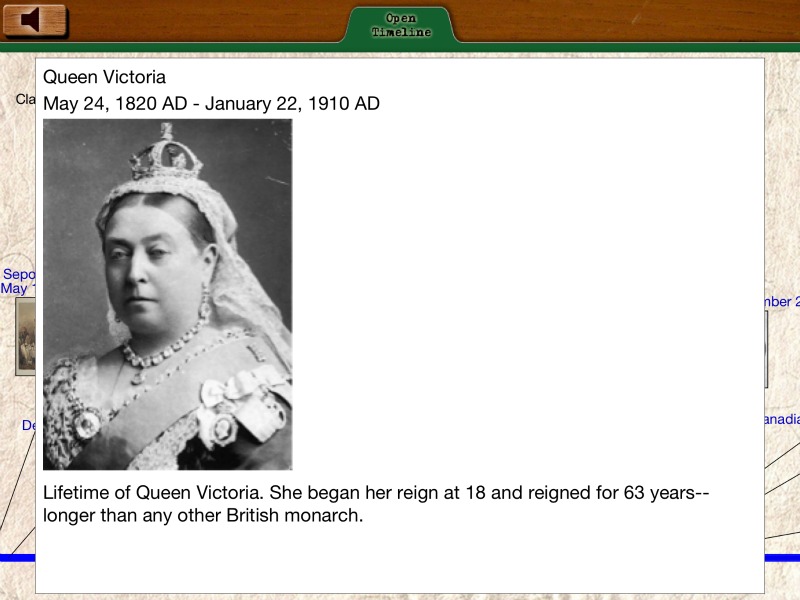 I'm even thinking of using it to plot the fictional events from my most recent work in progress, since keeping track of those events is always a challenge, and often needs to be referred back to while writing.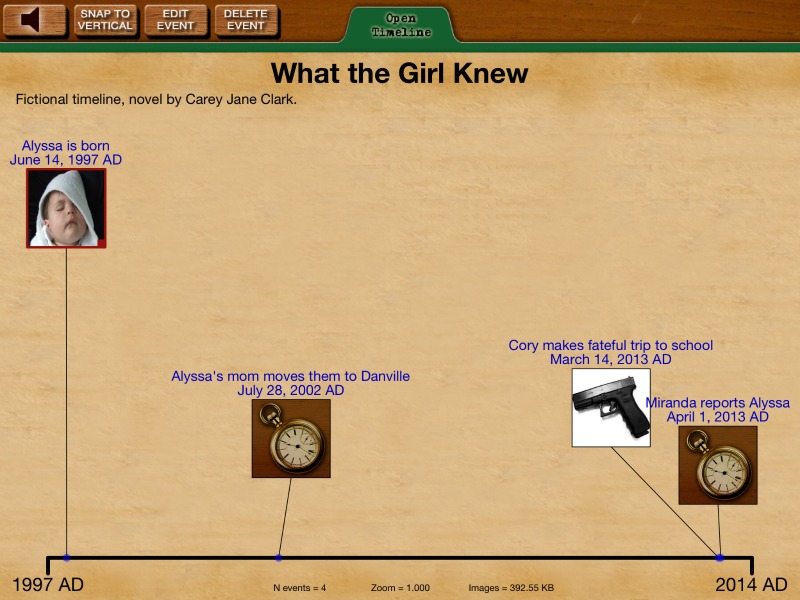 Just one small note: when editing new events, don't tap outside the area of the pop-up window, or the work you've already done will be lost and you'll have to start all over again. This happened to us a number of times, and was a little frustrating for the younger timeline builders.
While I received the app for free in exchange for my honest review, it is entirely affordable at just $6.99, available in the iTunes App Store.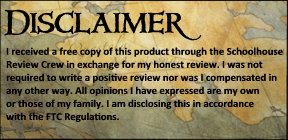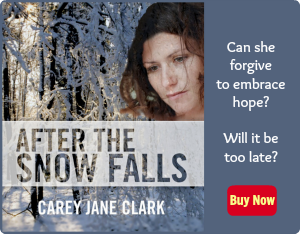 Use Facebook to Comment on this Post