During the two years that we were back in Canada in between our years here in China, I had borrowed some wonderful books from the library, and I had begun to teach my children hand and machine sewing.
Although I had given up on the idea of owning a sewing machine here, and had taken up knitting instead (far more portable), for Christmas, Javaman surprised me with a sewing machine! With my new machine, I'd begun to think again about teaching my kids how to sew. I went to Google, plugged in the name of the wonderful book we'd borrowed from the library, now out of print, and the Kids Can Sew website popped up instead! I'm so glad I discovered this wonderful company.
Kids Can Sew sells pattern books (complete with a full set of full-sized, multi-sized patterns) for boys and girls that teach the basics of sewing while allowing them to sew their own clothing wardrobe! For example, the Girls Level 1 Classics pattern book contains patterns and instructions to sew the following projects: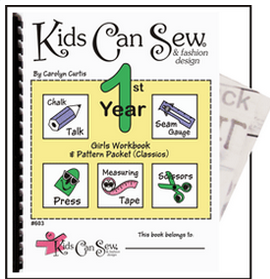 back slit denim skirt

square neck blouse
nightshirt
pants
round neck blouse
shorts
sewing bag
peasant nightgown
peasant blouse
small bag
A Variety of Pattern Types
There are books for Boys (Combined Level 1&2), and Girls Levels 1 through 4, as well as teens, adults, and some specialty pattern books, such as a "camp" pattern book with craft projects. Each level progresses in the skills introduced, until in Level 4, girls are working with stretch fabrics and a serger! There is also an alternate Girls Level 1 pattern book that features "casual" rather than "classics" clothing choices. Patterns fit children aged 6 through 13.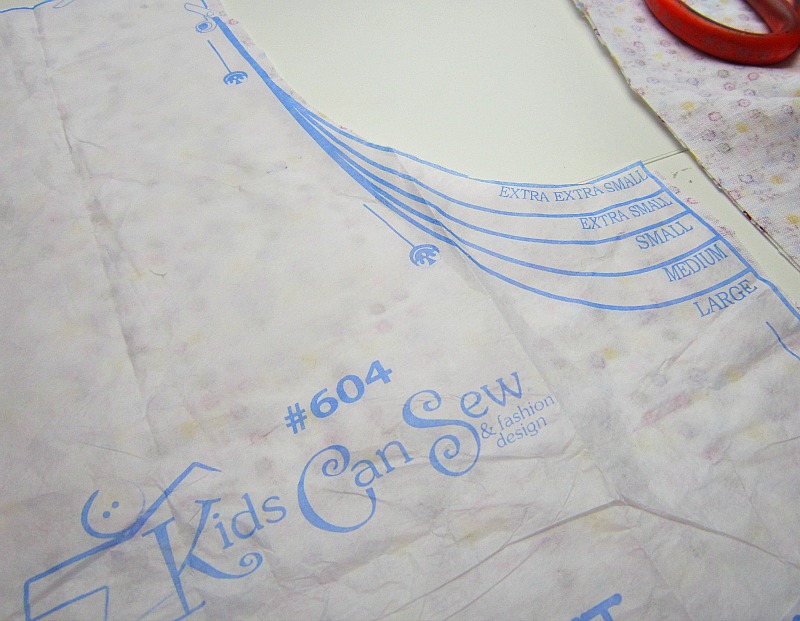 My girls used the Girls Level 1 Classics pattern book, as well as a bonus book we received from Kids Can Sew with doll patterns that match the girls clothing! After we bought our fabric (an adventure for another blog post), we came home and sat down with the pattern book to plan our sewing lessons. We figured if we did one step per day, we would be finished in about a week. However, Sprout was a little overzealous and finished her first project in just three days!
How the Books Work
The books begin with some preliminary teaching about sewing terminology, and some basic instruction, and then the project instructions begin. Kids start with an easy project: a sewing notions bag, then projects get increasingly difficult.
Since we'd had some sewing practice before, and since my girls were anxious to get working on something they could actually wear, AND since we had an awfully hard time finding a nightgown to buy here, we decided on the final project of the pattern book: the peasant nightgown. Now that we've done that, we plan to go back and make some blouses and shorts.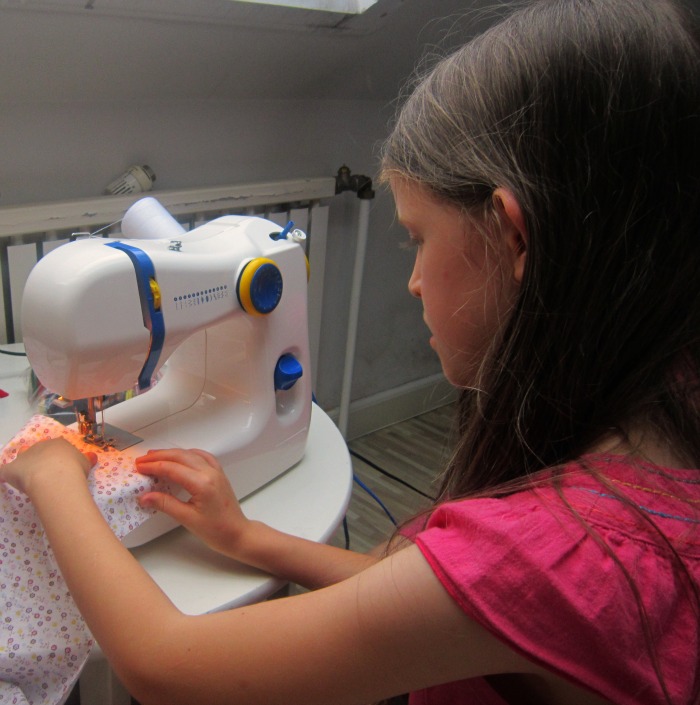 Our Experience
The instructions are easy to work with and kid-friendly, and everything is laid out in a very neat progression of steps with check boxes kids can check off when they've completed a step. Some instructions are simplified or made easier to understand. Instead of the "right" side of the fabric, the pattern books refer to the "pretty" side.
The process of teaching the girls to sew was fun and very interesting. I expected Sweetpea (age 9) to be the most engaged in the project, but Sprout (age 7) far surpassed her in enthusiasm, and finished her project first, then went on to sew a nightgown for her doll. But Sweetpea told me when she was almost finished that she'd learned quite a bit about perseverance from the experience, and looking forward in expectation of the end result. I don't think she anticipated the number of steps involved in making one's own clothes. But in the end, she was, indeed, very satisfied and proud of her accompllshment.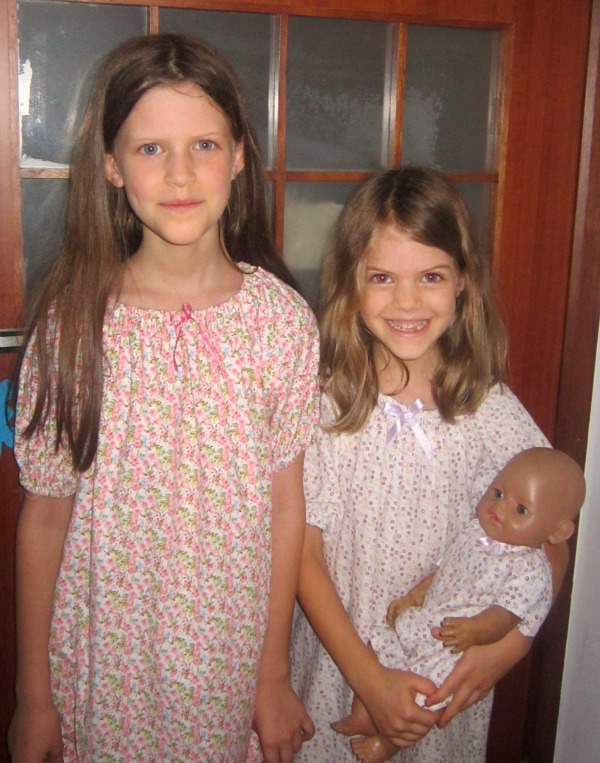 Additional Notes
I should mention that Kids Can Sew is actually set up as a home business opportunity with all the instruction and resources, so sewers can set up their own home-based businesses teaching children to sew.
[I should also note that Pumpkin very much wanted in on the action, but there was a bit of a snaffoo and his book hasn't arrived yet. He did help the girls zigzag the edges of their garments for practice, and worked on a project of his own.]
Pattern books are $44.99 each, which seemed expensive to me at first, but when you break this down into the fact that each book contains approximately 45 hours of instruction, and works out to about $4.00 per pattern for each of the projects, it really is quite reasonable, since kids are not only learning a valuable skill–they end up with a beautiful handmade wardrobe at the end as well!
Kids Can Sew is in the process of designing a homeschool curriculum edition of their wonderful pattern books. To be notified when this curriculum is available, click here.


Use Facebook to Comment on this Post