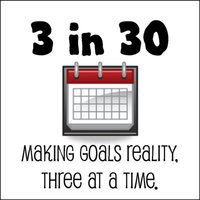 It's been a busy week, but I managed to stay mostly on track. I broke the going-to-bed rule a couple of times, but still managed to keep the days reasonably together. I've been kicking myself a little bit feeling like if I don't demonstrate orderly routine to my kids that they won't know how to get to work on time when they grow up. But then I get a dose of reality and realize our lives for the last few months have been a bit exceptional. We are in the midst of moving internationally, after all.
Go to bed at 10:00. As I said, I transgressed a couple of times this week, but for the most part, I kept it together. Late nights or lazy disorganized mornings meant only three days of exercise this week, but I still ended the week lower on the scale, and feeling good about where my exercise is going. I've even been adding a new habit to my life: getting up even earlier to write at www.750words.com.
Spend at least an hour a day purging and sorting. I am proud to say that there are areas on my desk where the surface is actually visible. I also deconstructed our homeschool space and sorted my summer clothing (the kids' clothing is already sorted). I don't think I'm being delusional when I report that we are more ready for this move than all the ones that have gone before it.
Keep homeschool time sacred. This has been accomplished mostly by trimming homeschool time to the essentials two days a week, and keeping the other days focused. We touch every subject once a week, but not necessarily even every other day. I thought I would hate this, but turns out, we all LOVE it. We may be onto something here…
The end of January (and move #1–to my parents' home) is looming close! How are you doing with your goals?



Use Facebook to Comment on this Post