Some time ago, some blog friends introduced me to Pinterest. At first, I saw Pinterest as another tool to distract me, but recently I began to see possibilities.
When I dug into Tell Your Time by Amy Lynn Andrews at the beginning of the year, I began to think about being a dreamer. Andrews encourages people to think out their roles. And to all the ones that immediately spring to mind, she encourages the addition of one more: dreamer.
And I began to think: what are my dreams? Many have come true:
be a mommy
homeschool my kids
write a novel
That's a pretty satisfying list right there. But I haven't stopped dreaming.
The "experts" will tell you that a big part of making dreams come true is vision. You'll never reach a goal if your sights aren't set on it. I used to have a bulletin board where I'd post pictures of the things I dreamed about: a vision board. Some keep clippings in a folder or scrapbook. But since we've become a little nomadic, I haven't had a place to put these things.
Enter Pinterest.
On a sudden burst of inspiration, I put together my own vision board.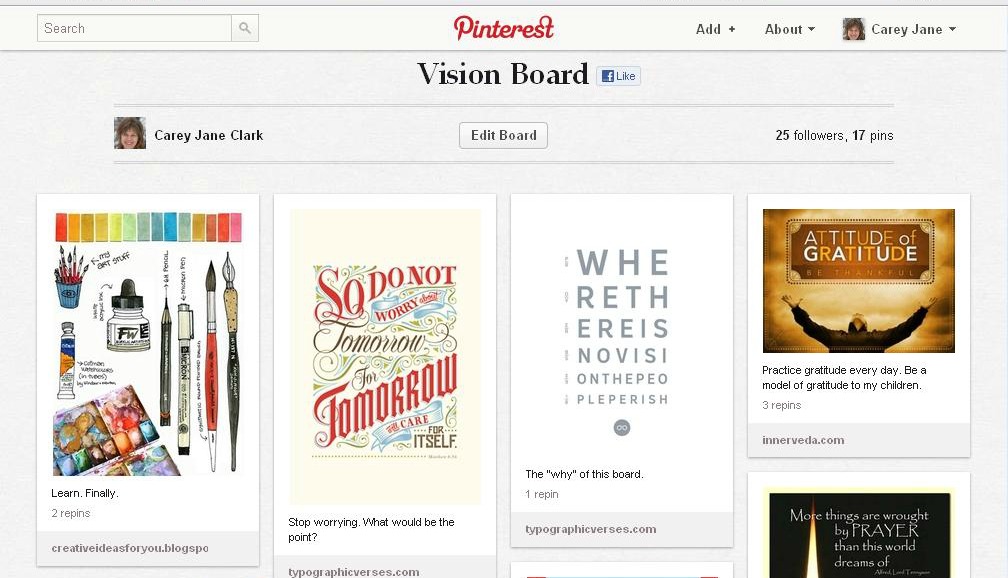 For a closer look, click on the image. What do you think?
Pinterest is also a great place to collect homeschool information. See my friend Sam's great post on that subject.
To obtain a Pinterest account, you must first be invited. If you want an account, and don't have one yet, I'll gladly invite you. Simply click the contact button on the menu up there and send me a message asking for your invitation.
And keep those eyes on the prize.


Use Facebook to Comment on this Post