When we moved from Canada to China, there were some things we just couldn't pack. One was our treasured nativity scene. The one we use in our family had been a gift to me when I was a teenager–something I had asked for for Christmas one year. My father had helped with (read: mostly did by himself) the construction of the stable and all our family members painted the ceramic figures. It has survived a number of moves and the toddlerhoods of three children.
But I didn't think it was up to a trip to China. And before we moved to this apartment, we wouldn't have had the storage space to keep it.
So we don't have a nativity set. Once, when shopping in July or some other random month, I spotted a scene in a store here. At the time, I was astonished to see it. Don't ask me why I didn't snatch it up on the spot. I ask myself that now. Now that I have spent two afternoons scouring that market and another with a picture of the desired item, asking at each store, describing the item and what it was. Each time I named the baby in the manger, the shop owner would look at me, shake his or head and report they hadn't seen anything like that anywhere. One went so far as to tell me, "Chinese people don't like that kind of thing."
And indeed, while you can find any number of Christmas trees, singing Santa Clauses, reindeer, flashing lights and glitter, there is no Christ child.
So today, we put aside the homeschool agenda, whipped up a bunch of salt dough, and we each made our own salt dough nativity scene–some with more success than others–items that large can crack in the baking process, and Sweetpea's Mary didn't fare so well.
But here are some pictures of Sprout's little family: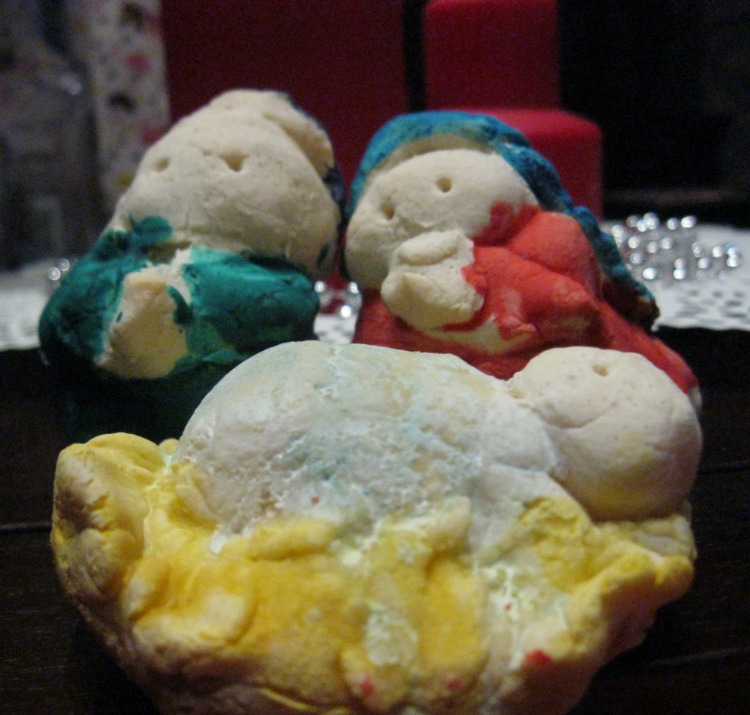 Pumpkin took a great deal of time perfecting his little figures, and in the end, didn't get time to paint them, but he plans to do that tomorrow: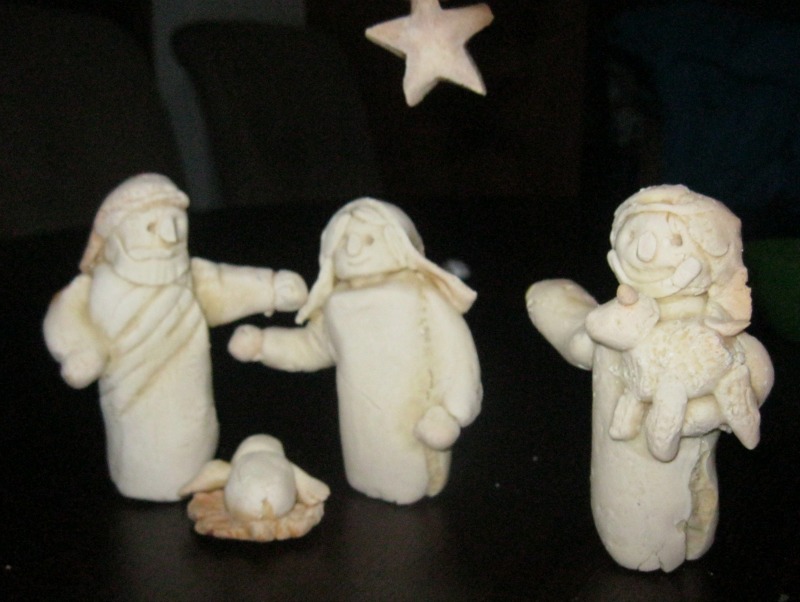 We found our recipe for salt dough at Allrecipes.com:
4 cups all purpose flour
1 cup salt
1 1/2 cups water
Preheat oven to 325 degrees F.
Mix ingredients together and form into desired shapes, then bake in oven for 1 hour. I would add that smaller items should be checked before that time. Larger items may need longer.
We really put the salt dough to the test with this project. Pumpkin cooked his figures on their backs, and the bottoms became rounded, so we sawed off a little very carefully with a serrated knife and then used a cheese grater to sand off some extra parts. Eventually they were all able to stand on their own. The shepherd was supposed to hold a staff, and Pumpkin made a hole for that purpose, but the salt dough swelled a little in the oven and the hole all but closed up. He's going to try a glue gun after painting.
We're going to make a cardboard stable for Pumpkin's set. Sprout opted to keep hers on her bedside table.
All in all, we're calling the project a success, and we're all happy to have found a way to keep Christ in Christmas.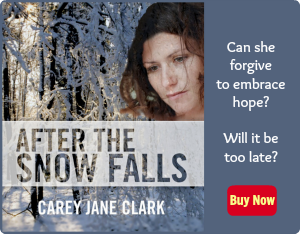 Use Facebook to Comment on this Post