Okay, time to be truthful. My kids haven't fallen in love with learning Chinese–yet. They like Rosetta Stone, and they acknowledge their lives would be easier if they knew more Chinese, but they haven't yet fallen in love with learning it, with the possible exception of Pumpkin, who does the most to practice Chinese at home, and wherever we go, as a matter of fact.
I do need to get back to posting at Hold the MSG.com, because while they didn't always seem so excited about doing it at the time, they've since asked when we're starting up again. (I've been so overwhelmed with other things that needed my attention, I haven't been able to give the time to that. But I think we'll weave it into the homeschool schedule during our Chinese practice time.)
We are, however, also learning French, which from time to time, they've been even less enthusiastic about. It can't be for lack of effort on my part. I love learning languages, and I've done everything in my power to introduce my kids to as much French from birth and Chinese since learning we were coming to China (including, while we lived in Canada, to switching our satellite service to French TV only–if they wanted to watch TV, they had to do it in French).
But we've been using a curriculum for French called Le Francais Facile. While I have other resources for French, and some they really like, this has been our core French program for a while now. We just graduated from the "Junior" book into the core course, and there's some amount of review my kids weren't thrilled about, but what redeems the course for them is the suggested activities to supplement the simple reading of the text.
In this week's lesson, they were introduced to a lot of "new" vocabulary that they already "knew," as the words are similar to those in English, such as banane, sandwich, pique-nique. Since many of the words were food-related, the supplemental activity was to have a picnic, or alternatively, to set the table for a French meal.
So this morning, I surprised everyone with a French cafe scene, complete with croissants from the fancy bakery at the shopping mall. I threw in some cream puffs for good measure, and it was all I could do to salvage one for JavaMan. (I'm not eating anything so decadent right now. I'm following a very restrictive diet for a while.)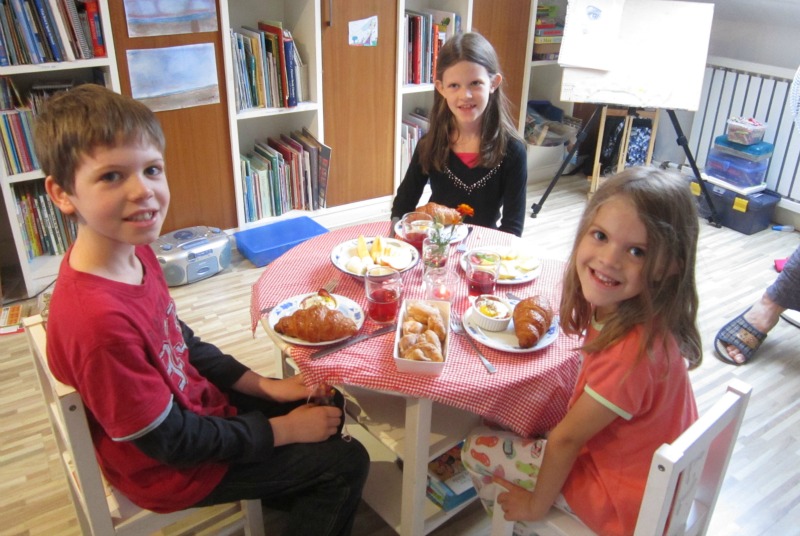 The ambiance was perfectly set off by this music:
It was a huge success! We had fun naming the different foods en francais, and of course enjoying the foods and the music.
And l'amore?
Well, we may from time to time hear a complaint or two about learning another language, but for the most part, we've found the mix of curriculum to keep everyone motivated and having fun learning French and Chinese.


Use Facebook to Comment on this Post