I've often lamented in the past how eclectic my blog can be. Posts from an author who's also an expat living in China who also homeschools her children can be that way, I suppose. However, recently, since we began eating vegan it seems the biggest excitement around here is in the kitchen. (Or maybe it's just that most of my life is in the kitchen!)
It's a good thing we've pared things down to a summer homeschool schedule (just math, Chinese and one other subject per day). Between searching for and planning vegan meals, to cooking and consuming them, it seems there isn't much time for anything else! I'm having to learn a whole new way to cook.
While we have all but abandoned the idea of eating mostly raw (JavaMan was dwindling away to nothing), we are two months in now since our switch to eating vegan, and things are going well. My family doesn't even seem to mind being guinea pigs as I experiment and innovate in the kitchen. In fact notably, Sweetpea, previously my pickiest eater, has actually confessed that her tastes are changing and she enjoys eating vegetables much more than she used to. This after eating a dish comprised mostly of spinach!
I'm thrilled to report that I even seem to have licked the breakfast challenge. I now have a set breakfast for each day of the week and most meals get a five-star rating from the kids (except one that everyone else loves and Sweetpea suffers through). What's even better, most meals have an overnight component, so preparation in the morning is minimal.
Which works great when you remember the night before. And not so great when you don't.
This morning was one of those mornings I woke up to the realization I'd forgotten to start breakfast the night before. So I dug out an old standby and tweaked it–a lot.
But here's the thing: the recipe turned out better than the original. I kid you not. No one could ever have convinced me this could be so (especially when butter is no longer one of the ingredients), but it's true. My "Best-Ever Banana Muffins" are even better.
Here's my new-and-improved recipe: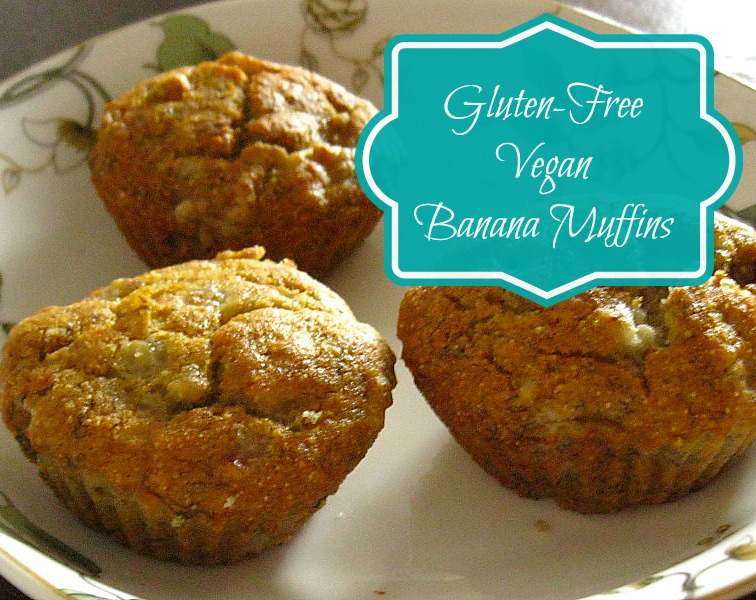 Gluten-Free Vegan Banana Muffins
(Makes 12 muffins)
Ingredients:
1 flax egg (1 Tbsp. ground flax, 3 Tbsp. filtered water, mixed and refrigerated 15 minutes)

1 cup gluten-free flour blend (see last week's recipe for this amazing breakthrough)
1/2 cup millet flour (this was a last-minute substitution because I didn't have enough flour mix made up. Next time, I'll try them with a full cup and a half of the GF mix)
1 tsp. baking soda
1 tsp. baking powder
1/2 tsp. salt
1/3 cup honey
1/3 cup olive or grapeseed oil
4 bananas, mashed
Directions:
Mix the flax egg and refrigerate.

Mash the bananas.
Mix in the honey and oil, set aside.
Mix the dry ingredients.
Add the dry ingredients to the banana mixture and mix in the flax egg.
Pour into muffin tins and bake 20 minutes at 350 F.
Muffins are done when a toothpick inserted in the center comes out dry.
These muffins turned out lighter and fluffier than my buckwheat version and elicited rave reviews from all three kids. They even asked for a double recipe for tomorrow's breakfast. I'll have to mix up a new batch of GF flour!



Use Facebook to Comment on this Post