When I began homeschooling, one of the problems I knew I needed to solve was math. In my own school experience, math and I had never really been friends. I didn't want to pass a negative attitude about math to my kids. I wanted them to love math, see patterns and fun in numbers and their combinations.
A challenge? Yes. But thankfully, there's wonderful curriculum out there that makes that job easier.
I'd heard wonderful things about "manipulatives," so I knew whatever method I tried, it would have to have some of those. But I didn't really know how to choose a math curriculum beyond that.
And the first year, I failed at making the right choice. The program we bought had lots of little pictures, and my kids spent lots of time counting things, but at the end of the year, it was hard to take stock of what they'd learned. I expected them to start to see patterns in numbers–to remember things from one day to the next. Nope. Instead, the pictures were a distraction, and the kids and I were frustrated!
I began to search around on the internet for the suggestions of others. Someone in a forum mentioned Math-U-See (subject of another post), and I discovered Right Start Math. And one day I stumbled on Dreambox Math.
Dreambox is computer-based, so it does mean screen-time, but it's brilliant at making math fun for kids, while at the same time helping them learn and understand math.
Like Right Start, Dreambox uses fives and tens as the foundation, and uses an animated version of Right Start's AL Abacus: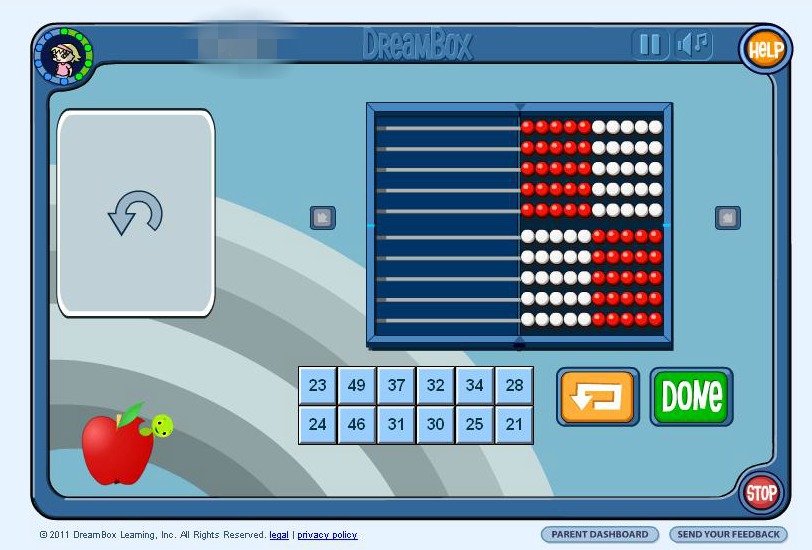 But the activities are all part of an ongoing adventure. Children choose which adventure to play and their successful completion of activities brings them closer to completing a goal and helping to achieve a task in the given adventure. They can choose between the Pet Friends, Pixies, Pirates or Dinosaur areas of the Adventure Park. Once that choice is made, they choose the adventure they will participate in: perhaps helping the Sprites get free from the lanterns because the trolls are keeping them captive to use in their mines. Something really important like that.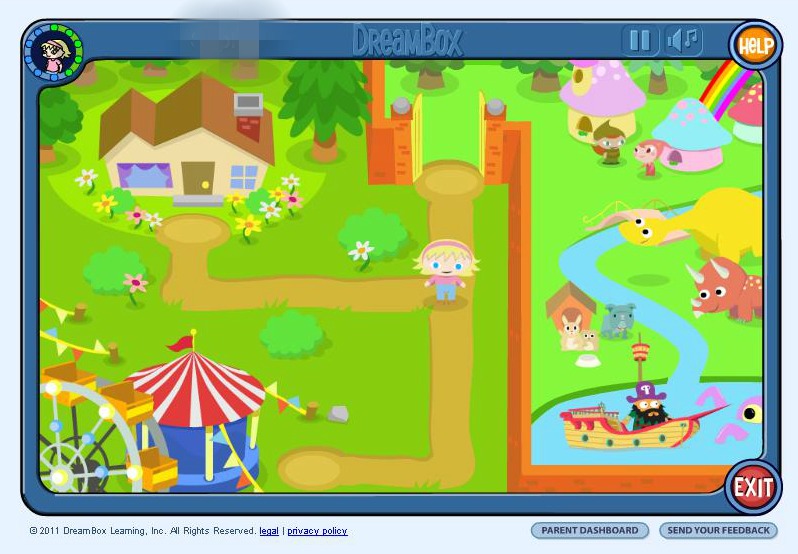 Children receive rewards and encouragement within each game, but also feel a sense of accomplishment when games are complete. After a game, they might receive a backpack with a special prize: a token, and adventure friend card, or a milestone toward one of their goals. Once all their goals for an adventure are complete, the child receives a certificate, which they can print out.
There are also carnival games, for which children must spend their tokens. But even these games involve math learning fun. There is one coloring area, which has no immediate math application, except that the stickers within it can be manipulated in terms of proportion, but time in this area is limited, so children are encouraged to spend more time playing the learning games.
The curriculum is adapted to the child, and it's easy for parents to keep track of their learning. Our family started using Dreambox when the curriculum was only K-2, but it expanded to K-3, and has recently expanded again to cover K-4 curriculum areas. The following report is for Sprout's learning. She is five years old, so would typically be halfway through a Kindergarten year, but as you can see, she's progressed quite a bit farther. She started playing with Dreambox at age four, when all she could do was understand a few number concepts, and she played the same games over and over. Now, she's moving along quite nicely: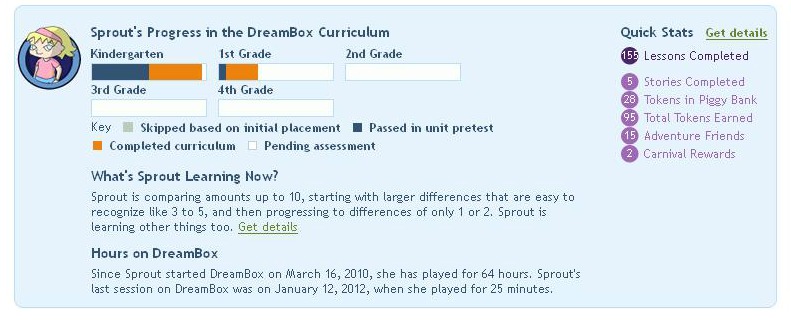 Pumpkin and Sweetpea are working on grades 4 and 3 respectively. It is amazing to watch them do two or three-digit math in their heads and be quick to understand more complicated concepts like fractions. I'm positive it's due to the foundation in mental math they've received from Right Start and Dreambox, which complement each other beautifully.
I'm on hand when my children are using Dreambox, and give them guidance, but Dreambox discourages too much "help," since the curriculum adapts to your child and gets more difficult as they become more competent. But don't worry–should the curriculum rush ahead of what your child is capable of, a "Too Hard?" button appears at the bottom right of the screen, and the child has can opt out of an activity, postponing it until later, when they're ready.
Dreambox could be a stand-alone curriculum, but we use it to supplement what we're already doing in our other homeschool math. My sister-in-law signed up my nephew for after-school use when he reported he wasn't understanding his public school math as well as he would like to.
Up to four children can use a monthly subscription to Dreambox, which costs $20. But anyone can have a two-week free trial.
Note: This is a completely unsolicited review, offered out of our family's joy in using the product.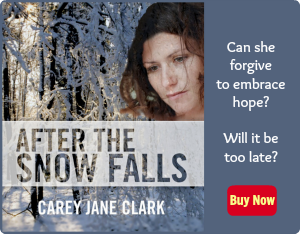 Use Facebook to Comment on this Post