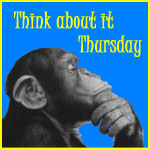 Again today, creation scientist Ian Juby joins us for another edition of Think about it Thursday:
Some of the more astute (and regular) readers will have noticed what appears to be a contradiction. In the February 23rd post, I talked about what really killed the dinosaurs of which we find so many fossil remains – it was Noah's flood. Yet in a following edition, I dealt with reports of apparent living dinosaurs still around today.
So which is it? Were the dinosaurs killed off by Noah's flood, or weren't they?  The correct answer of course, is "yes."  :)
Noah would have taken dinosaurs on the ark with him, as God had instructed him to take at least two of every air-breathing land animal and bird.  In fact, it's interesting to note what Genesis 6:20 says: "Of fowls after their kind, and of cattle after their kind, of every creeping thing of the earth after his kind, two of every sort shall come unto thee, to keep them alive."
Notice here that it says the animals would come to Noah?  I'll come back to this in a future issue of "Think about it Thursday" as a common question is "How did Noah collect all the animals from different continents?" For the moment though, I would like you to please notice that God brought the animals to Noah.
Now here in the Big Valley Creation Science Museum in Big Valley, Alberta (and must visit if you ever get the chance!), you see a model of Noah's ark.

If you look closely, you'll see some dark dots in the grass to the right in the photo.Those are cows the same scale as the ark model. This gives you an idea of just how big Noah's ark really was. BUT – Brachiosaur was estimated to be 27 meters long, and could typically raise its head up 16 meters in the air! And by the way – there are some dinosaurs that have been found which appear to be much bigger than the Brachiosaurs. Where on earth would Noah put the large dinosaurs on board the ark?
God gave specific instructions to Noah on how big to build the ark, so building the ark bigger isn't an option. However, is it possible to make the dinosaur smaller? Yes, just bring baby dinosaurs on board the ark.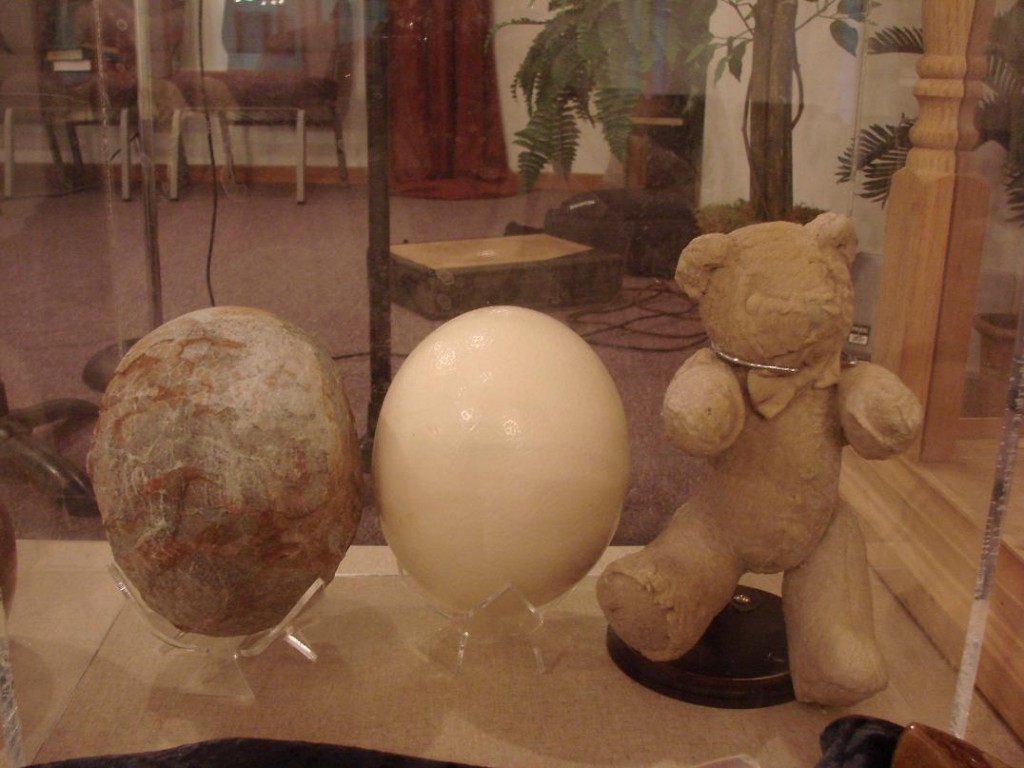 Even though the Hadrosaurs grew up to 10 meters long, you can see by the fossilized Hadrosaur egg that they start out really small. The Hadrosaur egg is the same size as an ostrich egg!  Yes, I'll explain the fossilized teddy bear later on.  :)
So God brought the animals to Noah, and undoubtedly God brought young animals, including the dinosaurs. Young animals eat less, drink less, sleep a whole bunch, don't take a lot of room, don't go to the bathroom much (!!!), and when they get off the ark, they have a full reproductive life ahead of them so they can repopulate the earth.
So why then do we not see a whole bunch of dinosaurs running around the earth? I'll leave you thinking about that one for another Thursday.
– Ian Juby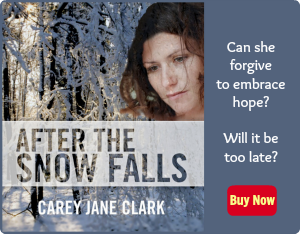 Use Facebook to Comment on this Post