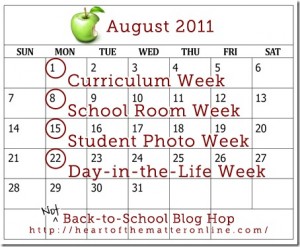 We're starting this school year with a lot of ambitious high hopes. Here are some things we want to do:
Start promptly at 9:00.
Finish around 2:00.
Work on something for a block of time–not until we "finish" something
Do more hands-on projects.
The wish list above comes from our experiences with homeschool last year. Every year we learn and grow a little more (read: I learn and grow a little more). The biggest challenge for me is #3. I often feel as though something needs to get "finished"–a chapter in the grammar book, a lesson in math–and in doing so, I can push my kids beyond their attention span.
I'm committed this year to keeping to time frames, and changing things up frequently for the sake of attention span. This is what Charlotte Mason says to do, and in theory, I know it works best. In practice, I sometimes get a little attached to the finishing. I'm buying an alarm clock this year and setting it for 30 minute increments.
We like to finish our day curled up reading together, and do the things that require concentration earlier in the day. We're changing things up this year as well to have our Bible time right at the breakfast table. I'm hoping it will ensure that we get started more promptly. Everyone will be responsible to be dressed and ready at the table by 8:00 for breakfast.
8:30 – Bible at the breakfast table
9:00 – Exercise
9:30 – Math every day for the older two, Explode the Code for Sprout
10:00 – Writing (M/W/F), Grammar (T/Th), Sprout works on an activity (playdough, coloring, logic puzzles, Legos)
10:30 –  Quiet Reading Time (I read with Sprout or take turns listening to the older two read)
11:00 – History (M/W/F), Science (T/Th)
11:30 – Narration or a hands-on activity for the older two, Handwriting or a hands-on activity for Sprout while I prepare lunch
12:00 – Lunch
1:00 – French (M/W/F), Latin (T/Th)
1:30 – Handwriting (M/F), Art (T), Nature Study (W), Music Appreciation (Th)
2:00 – school is done for the day
4:30 – piano practice
5:00 – clean up
Dinner is at 6:00. After dinner, we read a book together–usually some kind of a children's classic. Alternatively, during lunch, we listen to something from Audible.com. Right now, we are listening to The Borrower's Aloft.


Use Facebook to Comment on this Post