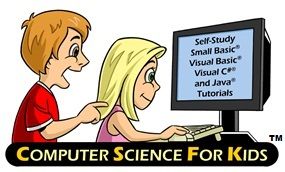 When I was given chance to review Computer Science for Kids' e-book, Computer Bible Games for Microsoft Small Basic, Pumpkin was very excited about it. Although he is on the lower edge of readiness for this program (he just turned 11, and the program is designed for kids 10+ through adults), he said he'd really like to try it, and he wanted to work on it on his own in his free time.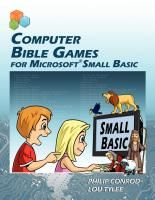 Eventually, the program exceeded our expectations, but we didn't get off to a great start, since the first chapter about the history of computer programming overwhelmed him a little and bogged him down with a lot of vocabulary that was new to him and some information that he frankly didn't care about, anxious as he was to get in and start the actual learning about programming. And I say "we" and not "he" because I did need to be on hand quite a bit to help him wade through the information and understand some of what he was reading. Some of the math concepts, such as square roots needed to be explained. But he didn't have too much difficulty understanding these concepts, once they were explained.
And given the subject matter, the authors did an amazing job of making things simple and easy to understand and to get in and start the actual work of programming.
Each lesson is formatted such that the student has to read some information about how Small Basic program logic works, and the lesson introduces one or more commands in Small Basic and explains how it works. Right away, students are given an opportunity to write small sections of code that the student can observe in action, and each lesson culminates in a small program the student is able to create with the tutorial. Helpful screenshots are included frequently throughout the lessons so that the student constantly gets visual feedback about what they're working on, and there are sample programs included to model what the finished program is supposed to look like and what it is supposed to do.
This was helpful on at least one occasion where there were mistakes in the code we wrote and we needed to compare it to the original to figure out where we'd gone wrong.
Instruction and sample programs started with simple text-based programs resulting in text output in a text window, but even this was fun for Pumpkin, and he quickly caught on to the types of changes he could make to the program to make it his own.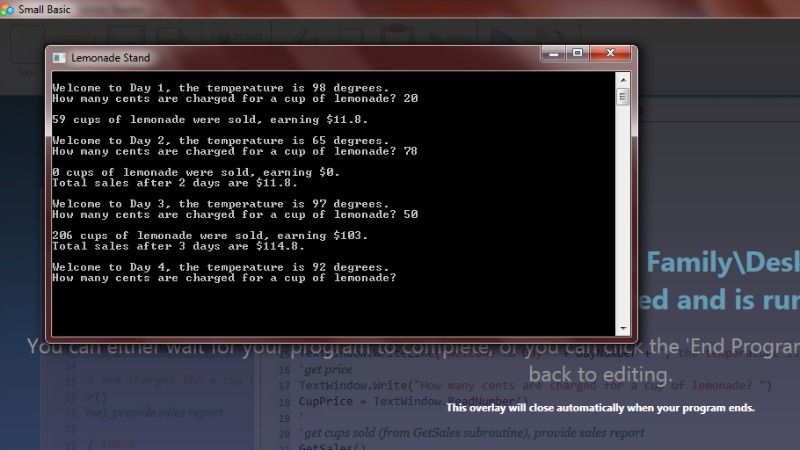 In the spirit of full disclosure, I must admit that since Pumpkin's keyboarding skills were not quite up to the level he'd need to quickly complete the lessons without getting discouraged, we copied and pasted sections of code from the PDF lessons rather than typing them out. We made sure to read through the code line by line so we understood its purpose, and tried to predict the results we'd see on the screen when the program was run.
We learned to figure out where our copying and pasting created problems and code needed to be reformatted. However, once or twice, there were mistakes in the original code that needed to be corrected in order to make the program work.
While this was a little inconvenient, it made for good practice in learning how to find mistakes in the code and fix them, something the authors state clearly is a fundamental lesson that any good programmer needs to learn.
From Text-Based to Graphics Programs
Surprisingly quickly, the lessons moved from simple text-based programs displayed in the text window to programs in a Graphics Window that resembled programs children are familiar with, using color and graphics, and that responded to mouse clicks and movements. This was really motivating!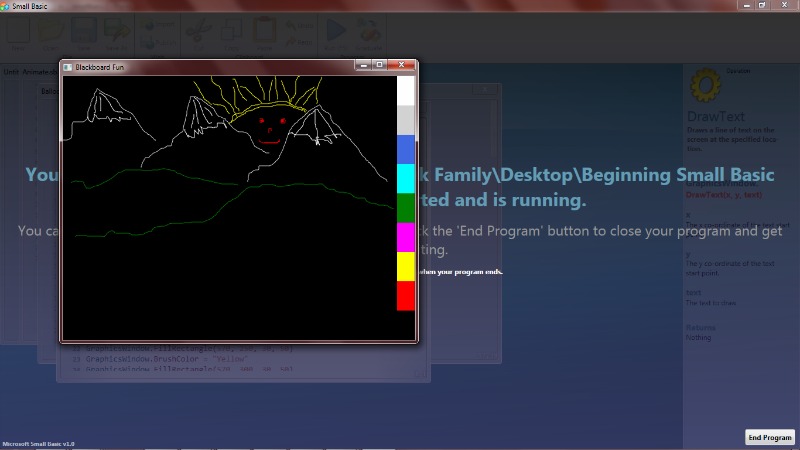 In the program above, students were shown how to make the mouse respond within the graphics window by choosing colors and allowing drawing.
Animation
From there, the program moved into some simple animation. Again, it was somewhat surprising how quickly and easily the program moved to this level of programming, allowing the student to see in action the kind of programming they're accustomed to seeing in simple educational games.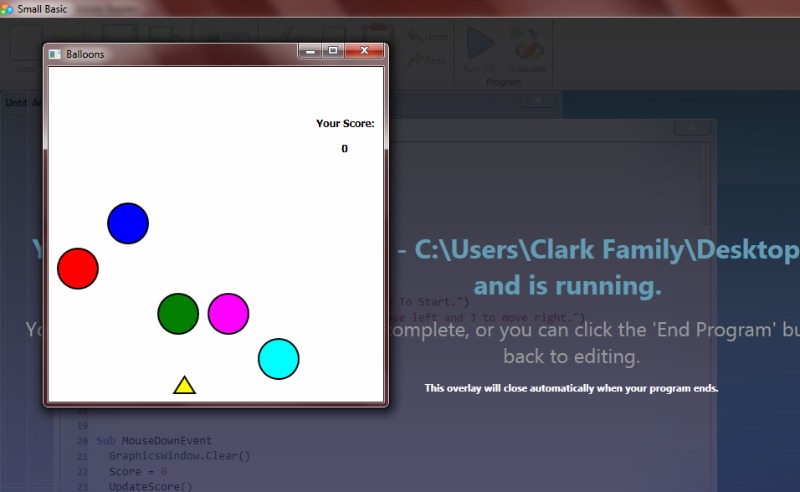 Computer Bible Games for Microsoft Small Basic differs from the regular program beginning at lesson 10 where the the focus of our program shifted from a general program to designing Bible-based computer games.
It was here that we ran into a small glitch that we were unfortunately unable to resolve during our review period. We're quite confident it was a problem of understanding on our part, but we were nevertheless unable to make the graphics work properly in the Noah's Ark game. Here's our screen: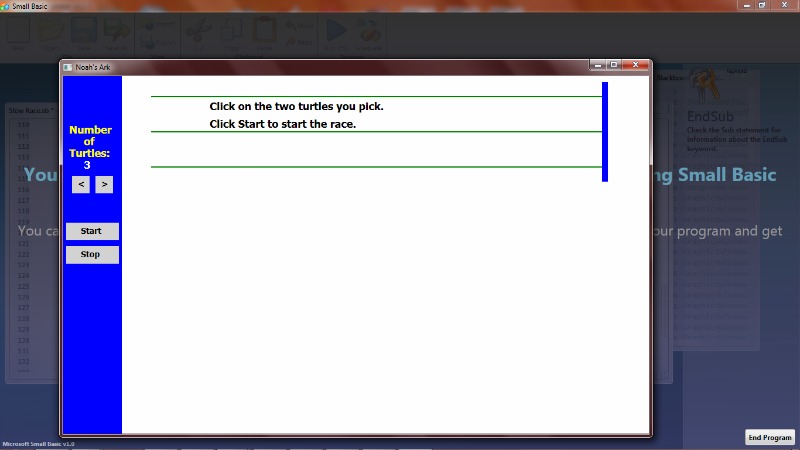 At the beginning of each of the green lines above, this cute little turtle was supposed to appear, but we couldn't quite figure out how to get him where he was supposed to be, and this is as far as we were able to progress during the review period. Pumpkin has gone away on his extended field trip with JavaMan this week, but was looking forward to solving this mystery once he returned. In the meantime, I've contacted customer service for some help.
All in all, the program was engaging and motivating, once we were beyond the first chapter, and as I mentioned, moved surprisingly quickly through the various concepts in order to produce truly rewarding results in what seemed like a relatively short period of time. Pumpkin and I were both pleasantly surprised at how rapidly the program progressed from simple text programs to graphics and then on to animation!
Because the program is so dense with information, and forces the student to think logically, it might have been helpful to have the introductory information from each chapter laid out in bullet format so it could be easily seen what the objectives of the lesson were and what the final project would be. If Pumpkin ever became bogged down with technical vocabulary or the step-by-step logic of the lessons, he was easily motivated by knowing the final objective–the "in this lesson, you will build a program that will use animation" line. This kept him going through the more challenging parts.
Also, it was helpful to encourage Pumpkin to think of a "lesson" as something that could be completed over a number of days. Though he was motivated to push through to get to the fun parts at the end of each chapter, one whole lesson was sometimes more than could realistically be handled in a single sitting.
Although I was offered this program free for review, the price is reasonable for what the student is able to accomplish through their studies, and for a limited time, the program is on sale.
Choose from either Computer Bible Games for Microsoft Small Basic or Beginning Small Basic Computer Games (without the biblical content), both normally $59.95, on sale for $34.95. Both are e-book downloads with single user licenses.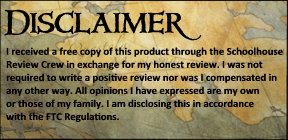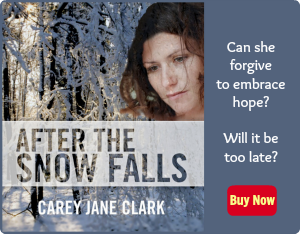 Use Facebook to Comment on this Post