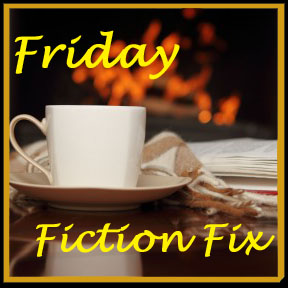 I have a passion for fiction. I decided it was time to do something about that here on my blog. So starting today, most Fridays I'll host Fiction Fix Friday. I plan to review fiction and host guest posts and today I'm interviewing fellow Trestle Press author, Karen Anna Vogel, author of Knit Together: An Amish Close Knit Novel and the best-selling Amish Knitting Circle fiction series.
Karen writes about the Amish from a unique perspective, as a trusted "English" friend.
CC: How did your friendship with the Amish begin?
KV: My family moved to Upstate NY where there's a large population of Amish settlements, and so we became acquaintances with many, but good friends with one family in particular, Harry Hershberger, (Eli Hershberger in Knit Together: An Amish Close Knit Novel.) He was in a wheelchair running a variety shop when I met him. His buggy was hit while trying to help put out a fire as a young man, after the birth of his daughter. When we met he was middle-aged and enjoyed my four kids coming in the store to buy coloring books and crayons.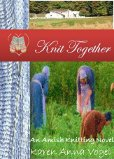 Harry and his wife, Katie, were the most inspirational people I've ever met. Harry believed God allowed him to be a paraplegic for his glory, to meet many people in his store the Amish built for him so he'd have employment. He wanted to just shine the light of Christ on everyone. He was the first one who called me a trusted English friend, which carries a lot of weight in the Amish community. Now I live back in Western PA, and the Amish here know Harry and Katie from circle letters, and they immediately trusted me too. I found that amazing.
CC: What is it you most admire about the your Amish friends?
KV: When they give their word, they keep it. The Amish built our barn and addition, and I'll never forget when Noah, a newlywed, showed up to work a little forlorn. I asked him what was wrong, and he said his wife wasn't too happy with him. When I asked him what he did wrong, he said he got his calendar mixed up and couldn't go with her to a wedding that day. I told him he should have called (from the phone shanty) to cancel with us, but he said he gave us his word. This blew me away!
But they're so much fun too, and that's what many people don't understand. They're not staunch, stoic people. When the men replaced our roof, all five of them sang most the day in harmony, talking and laughing. Some brought a "joke of the day" and I'd have one ready for them.
CC: In a recent blog post, you talked about simplifying life to live more like the Amish. When you consider that, what's one thing you think you couldn't live without?
KV: I couldn't give up the internet or my Kindle. But, never say never, right?
CC: If you could sum up the message of Knit Together in a sentence, what would that be?
KV: You don't have to be Amish to live a simple life, but we have a lot to learn from them.
CC: Your books are doing very well. How did that happen? What's your secret of success?
KV: Well, I can only go by what readers are saying, and it's that they're learning a lot about Amish culture. They also see issues in the Amish community that surprise them; alcoholism, marital problems, poor body image among women, adoption within the community…maybe issues that aren't normally talked about.
CC: Tell me about the serial stories. How did that get started and what do you like most about them?
KV: Well, Trestle Press asked Suzanne Woods Fisher to write the series' and she referred them to me. I like writing a serial since they've made a comeback; 80% of Americans are too busy to read a novel, so short stories are popular.
I also get instant feedback from readers and it helps me see what is touching my audience. Serial books have become classics because of audience response. The Pickwick Papers by Charles Dickens, Anne of Green Gables ~ Lucy Maud Montgomery and The Mitford Years ~ Jan Karon are some examples.
CC: What's next?
KV: I'm writing a novel set in Upstate New York where I used to live. It was such an interesting place to live, being near Amish and also Native Americans who owned some of the surrounding land. I love learning about other cultures and hope readers will too. That book will also deal with kidney transplants. I started writing it last winter when my sister-in-law was on the transplant list and things looked bleak. It was great therapy. Suzanne is Amish in the book, waiting for a kidney and goes to Pittsburgh for surgery. Since the Amish use modern medicine, it fit into the story. And in real life, my sister-in-law got a transplant and is doing very well, and we're so thankful.
Thank you for having me on your blog, Carey. So glad we met at the "Write His Answer Conference" in Philly!
Thank you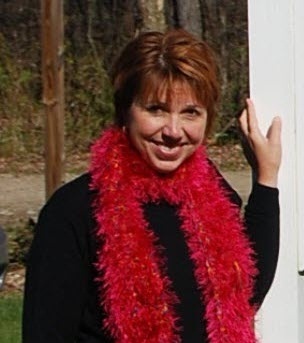 , Karen, for visiting here in the first edition of Friday Fiction Fix!
Karen Anna Vogel blogs at Amish Crossings. You can also join her author page on Facebook.
Also, don't forget to check out the Virtual Book Tour starting Monday, December 12 for After the Snow Falls.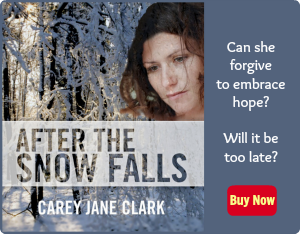 Use Facebook to Comment on this Post