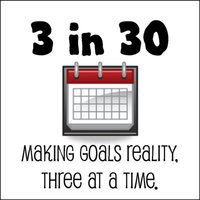 At least I think it's week 4. I'm losing track. We're mostly unpacked, and definitely settling in to our new little life, part of which consists of twice weekly trips to the library to let the kids use Headsprout/Dreambox and me catch up on some of my internet use/email, etc.
Things are going well, but we're going away today and will be gone for 10 days. I've packed a bunch of homeschool books to continue working on homeschool planning and my computer to continue work on revision.
So here's the progress on the goals:
The goals for revision toward the writer's conference have become goals toward revision for submission to editors and agents within the month. Still plugging away, slightly behind schedule, and hoping to make it up on the road. (I realize we've left the realm of the realistic, here!)
The move is complete in terms of moving in. Still unpacking boxes, but we've found just about everything we're urgently needing, and only a few boxes remain, mostly of books we use occasionally. Things are in good shape.
Homeschool planning still needs quite a bit of work, but we've actually already started homeschooling, and at my childrens' request! I convinced them to start Story of the World, and then they asked to do another lesson. They enjoyed so much doing the coloring pages along with the reading, and I appreciated having the comprehension questions to ask afterwards. It's just so nice when someone has done the hard work for you, isn't it? We have the homeschool space set up (it's not actually a room). I still have a bit more of the planning to do–especially for Science. There are a lot of handouts to have photocopied, etc. I've decided instead of purchasing resources for Science (and having printables) to use a combination of two science curriculums I was given–big savings, bit of an extra pain.
How are you doing on your back-to-school goal-setting?


Use Facebook to Comment on this Post