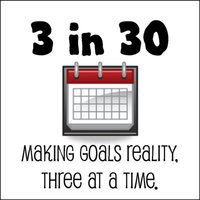 I always sit down for one of these posts at the end of a month and am amazed how quickly the month has flown by! But I'm happy it's May because the weather is really warming up now, and our house is getting much more comfortable.
For April, I feel grateful to have participated in Ashley Pichea's featured challenge, working through Simple Blogging. For the most part, I'd say I didn't necessarily learn as much from this book as it leant me a fresh perspective on my blogging activities.
Interestingly, I tried blogging less this month, and that worked fine to keep me focused on the tasks involved in keeping up with real life, but halfway through last week, I was in a bit of a funk. I finally sat down and started blogging and realized that blogging is good for me. It's some of the other things (social media, etc.) that go along with it I don't enjoy so much.
In not blogging, I'd cut myself off from some of my favorite posts, and the ones that readers tell me they appreciate: my Chinese kitchen, my gratitude journal and Cultivating a Positive Family Environment.
So I'm still working on balance. Hmmm…guess that makes me human, huh? (If you've got balance perfectly worked out, let me know. You can do a guest post!)
Here were my goals for April:
Work through Simple Blogging – Done. Great book with lots of thought-provoking material.
Get into a proper routine – We had an off day last week, but for the most part, we're back in the swing of homeschool. We're running almost a full schedule, with history, math, spelling, writing, handwriting and science. We have yet to add in art, which we keep neglecting when things get busy, and is one of our primary loves. Need to fix that!
Get Hold the MSG on a better schedule. Last week, that involved postponing a post. I needed to breathe. I have lots of ideas, but the practical matters of life: getting our furniture and curtains and continuing with settling in took precedence. I'm not unhappy about that, and I'm sure the post will be better when it's finally up.
All in all, I think I'm headed in the right direction in terms of balance. And I think I'm learning to be truer to myself with my blog and social media.
What were your goals this month? Are you closer to them?


Use Facebook to Comment on this Post