Today I'm reviewing Adventus's incredible program MusIQ Homeschool, which includes the Children's Music Journey program (for 4-10 year-olds) and Piano Suite (for ages 10 to adult). We were beyond excited to be able to participate in this review because we'd actually tried using this program when we first came to China in 2008, but we had some issues getting the midi-cable we bought at the "electronics market" to make the program work with our Yamaha keyboard. We would get to a certain point in the program, and the animated Beethoven would direct the children to play a note, they would play it, and the program would lock up. Eventually, we gave up.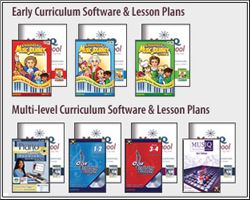 This time, when we had everything set up after downloading the software and plugging everything in, Sweetpea played the note, Beethoven said, "Very good," and we all cheered! Imagine: Beethoven was hearing us!
The Children's Music Journey program was everything I had hoped it would be, and more, in that it incorporates music history, music appreciation, music theory, composition, ear training and the first steps in playing music. Sweetpea (9) and Sprout (6) immediately loved it and breezed through several lessons, mostly on their own.
However, for homeschool, there are numerous additional resources that allow the homeschool parent to lead children in further discovery, with composer study resources, coloring pages for the theory lessons and activity sheets for generally enriching the learning experience.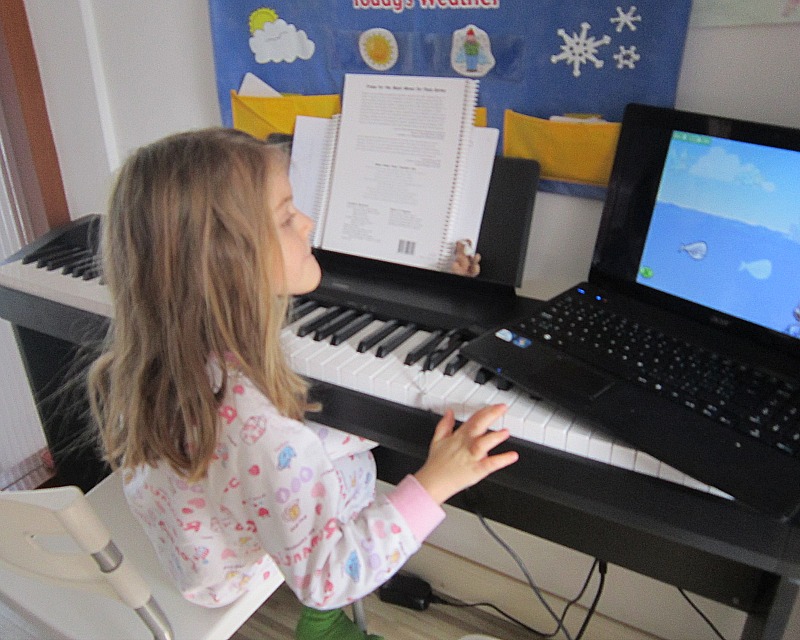 Using the program this time around wasn't without its technical challenges. For some reason, the cursor tends to "hide" when navigating between items in Children's Music Journey–a minor nuisance we learned to get around. And we had a little difficulty making sure that the program could play back what we played, even though it seemed to "hear" us with no difficulty. But the technical service representatives at Adventus responded promptly to any technical support requests, and had helpful suggestions for resolving difficulties.
Pumpkin felt that Children's Music Journey was too "young" for him and moved too slowly (and since he turned 11 today that's probably appropriate). However, after trying Piano Suite, he was frustrated that it moved so quickly through the lessons, particularly as the program moved to reading music and note values. He eventually decided to try the Children's Music Journey lessons. While he still feels they are moving a little slowly for his liking, he is enjoying them. We'll try to move him on to level two quickly, where he'll probably feel more comfortable.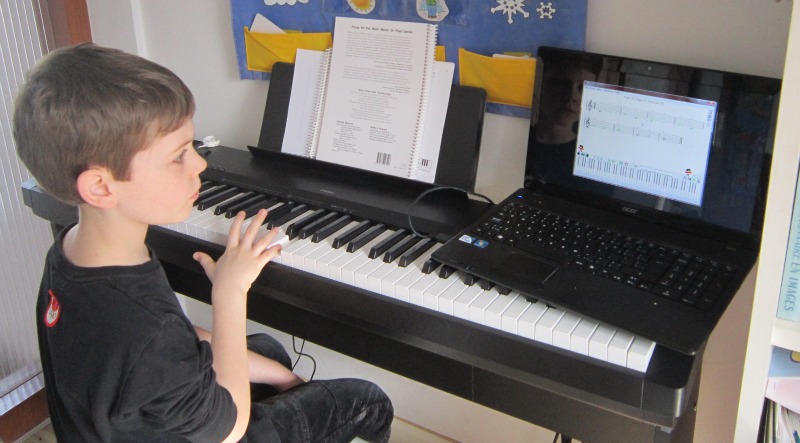 All my children really enjoyed playing with the composition area–playing along with the various composers' pieces to discover which notes and rhythms complemented the songs. And I love the way the program so naturally integrates music appreciation and exposes children to a variety of musical styles and periods (classical, ragtime, etc.)
Having previously studied up to Grade 8 (Royal Conservatory) piano lessons in Canada while growing up, in recent years, I have played mostly contemporary worship music using chord charts and had all but forgotten how to sight read. I wasn't even sure if I could remember which note names corresponded with each place on the staff. (Shame on me, and apologies to my music teacher. I'm sure she'd be horrified). So I decided to try the Piano Suite lessons myself. I started using the theory lessons way back with sharps and flats and progressed from there. I was really impressed with how the program functioned to "listen" to the what I played and let me know when I had made mistakes. It really forces the student to pay attention to accuracy and become motivated toward an error-free performance. And I was delighted to discover how much I did indeed remember.
While we did have our own brand-spanking new MIDI-capable keyboard to use with the program, Adventus offers a bundle that includes a keyboard designed to work with the program if you don't already own one. This bundle is priced at $199.95 and includes Children's Music Journey, Level 1, the accompanying lesson plans and the MIDI keyboard. A similar bundle is available for the Piano Suite program, at $219.95.
Alternatively, Children's Music Journey (Levels 1, 2 or 3) can be purchased separately for $89.95 (including lesson plans). Piano Suite on its own (with lesson plans) is $109.95.
We originally purchased the Adventus programs back in 2008 to replace the need for a music teacher, since coming to China would mean we wouldn't be able to have conventional piano instruction in English, and despite my formal training, I didn't feel equipped to teach my children on my own. Considering the program replaces the need for a teacher for formal piano instruction, I feel like at this price, it is a tremendous deal. Now that MusIQ Homeschool is working for us, we are enjoying the sound of the piano in our home again!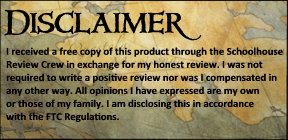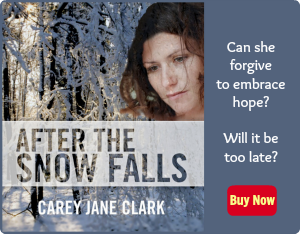 Use Facebook to Comment on this Post