In my last post, I mentioned the fact that I was looking for a way to reduce phytic acid (also called phytates) in our breads and baked goods. I discovered sourdough–or rather I rediscovered it. As a child, I remember my mother making sourdough breads.
I didn't know if the sourdough process could be used for gluten-free baking. The wonderful news is, it can! Wonderful because if you, like me, find that some of the old-fashioned pleasure of baking has been removed by the gluten-free process, sourdough brings it back!
There's something really wonderful about the yeasty smell in the baked goods and the extra time it takes to make things. This is really the way bread and other baked goods were meant to be baked, until modern quick-rise techniques emerged.
Why Sourdough?
Besides the pleasure of baking with sourdough, there are some good reasons to begin using this process in your kitchen:
taste – Not everyone enjoys the fermented, slightly sour taste of sourdough, but fortunately, our whole family does. Many people prefer it.
nutrition – The sourdough process is very effective in reducing the phytic acid content in grains–both gluten-containing and gluten-free.
What Can you Make with Sourdough?
The sourdough process can be applied to just about anything baked–whether that recipe would traditionally call for yeast or not. So far, we've successfully made and taste-tested:
bread
muffins
"quick" breads
cookies
pizza dough
pancakes
I may be forgetting something. I've been doing lots of experimenting, converting many of our family favorite recipes to gluten-free sourdough variations or trying out the recipes of others and tweaking them to accommodate some of our preferences (like using honey instead of sugar).
But all of these recipes start with a good sourdough starter.
Variations
I did quite a bit of research into sourdough starters–gluten-free and otherwise. There is a good deal of variation in starter recipes. Purists try to "catch" a wild yeast, but from what I've read, these can be unreliable, can take a while to get started and may or may not taste good in the end. My recipe uses yeast to get the sourdough started, which for purists is cheating. Then there is variation in how the starter is handled after it has begun. Some recommend discarding a portion of it after it is ready and has made a good "sponge." Some do not.
I can't tell you that I have done things the "right" way, only that my sourdough starter has been tremendously successful for us, and has consistently produced excellent quality baked goods with a fluffy texture and rich taste. All our resident taste-testers are very satisfied. In fact, we've decided some of the baked goods–like the pizza crust and the pancakes–are much better than their original recipes.
And my recipe is very easy!
Some Tips
Most sourdough recipes will recommend that you do not use plastic or metal utensils when working with the sourdough–only non-reactive utensils. I use wooden spoons or silicone spatulas and glass bowls (thanks again, IKEA). This is because the sourdough process is essentially a fermentation process. Legend has it that pioneers actually used sourdough as a heavy-duty cleaner because of its corrosive properties. Enough said.
If your goal is reducing phytic acid, as mine is, you're aiming for a minimum 12-hour fermentation period prior to baking. In general, this means that if I want to make bread in the morning, I prepare the "sponge" (the mixture of starter, liquids and flours) the night before. If I want to make pizza for supper, I could prepare it that morning, but since mornings are full of getting-out-the-door scramble, I usually start it the night before as well.
In general, the longer this starter/liquid/flour combination sits at room temperature, the stronger the taste of sourdough will be (and the more phytic acid will be reduced). In fact, we have left things 24 hours and not noticed an appreciable difference in the taste, but the texture has definitely become lighter and fluffier the longer it sits.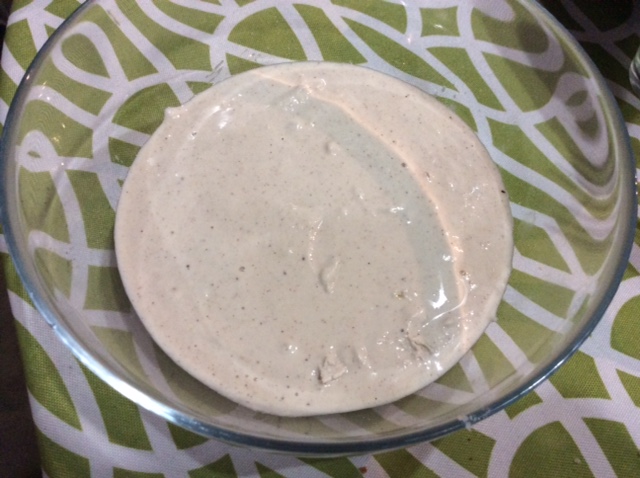 Ingredients:
2 1/4 tsp-3 tbsp. (or one package) active dry yeast
1 cup full-fat coconut milk, room temperature
1 cup white rice flour
1 teaspoon honey
Tools:
1-liter/1-quart glass jar, such as a mason jar
lid or cheesecloth
wooden spoon or silicone spatula
(Since I can't buy mason jars in China–boohoo–I use a one-liter pitcher. It can be covered with a lid, but I started and store mine covered with a cheesecloth-like cloth. It's actually for lining steamer baskets for making steamed bread, but works just the same. My starter is not particularly photogenic in its jar, though, so I dumped it into a glass bowl for the picture above. The starter pictured above has been going now since August or September. It was pretty much fresh out of the refrigerator for the picture, so hadn't developed quite as many bubbles as it might have had I given it time to prepare to be photographed.)
Directions:
Dissolve the yeast in the coconut milk. Add rice flour and honey.
Cover loosely and allow to sit at room temperature for about three (3) hours.
Bubbles should already be beginning to form throughout the mixture. Liquid may have risen to the top. Stir the starter.
Leave the starter at room temperature for two more days, stirring once or twice a day.
On the third day, your starter should smell yeasty and be full of bubbles. At this point, you may refrigerate it until you need to use it. The starter will need to be "fed" at least four (4) hours before you use it the first time.
Starter Feeding and Maintenance
This is the point at which some starter recipes will tell you to discard some starter. (What??? Precious!) Other recipes do not involve this step. I decided not to discard. I was anxious to get going right away. I can see no ill effects for having saved my starter this indignity. Instead I fed the starter using the steps below, waited four hours and used it.
These days, I do not feed my starter four hours before use. Once I've used some for a recipe, I feed it right away, then pop it back in the fridge for safe keeping. Occasionally, if I feel like I've taken away a lot of the starter and am replacing quite a bit (over 1-1/2 cups), I'll let it sit on the counter again at room temperature overnight. When I want to use it, I pull it from the fridge and scoop out the amount needed. I do not wait for it to return to room temperature.
However, I will admit that when making bread that traditionally contains yeast, I have to wait a little while for it to rise before baking. It's hard to blame this on the starter, though. It may be partly due to the fact that my flours are also cold out of the freezer, where I keep them after they are ground to preserve the enzymes.
At this point, I use my starter between once and four times per week. (It's important to use the starter regularly to keep it healthy. If you don't plan to use it for a while, you can freeze it.)
When you are ready to feed:
add 1 cup rice flour
add a scant cup water
After the first feed is complete, and you have used your starter in a recipe, simply replace the amount of starter you took away. If you use 1/2 to 1 cup of starter, replace with 1 cup flour, 1 scant cup water and mix thoroughly to combine with the starter. Refrigerate. Again, purists would have you wait two days for the best sourdough flavor.
And that's it!
Keep checking back for more recipes that use this wonderful starter. I've just begun to experiment, so there will be plenty to share, starting with a converted traditional yeast bread, and moving on to the more adventurous–like sourdough Christmas baking. Yum.
How about you? Have you baked with sourdough before? Do you have a favorite recipe?